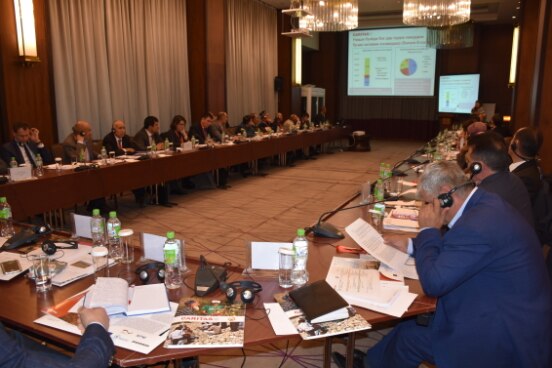 Over the past decade, the Swiss Agency for Development and Cooperation (SDC) has financed a three-phase mandate centered on IWSM, implemented by Caritas Switzerland and national partners within four fragile watersheds of Muminabad District (Khatlon region).
The Muminabad experience proves that the risk of natural hazards, resulting from years of deforestation, poor land use management practices, and extensive grazing on high mountain pastures, can be mitigated through a balanced approach.  This approach considers the connections between disaster risk reduction, sustainable rural livelihoods and environmental well-being. Recognizing and building on the connections between ecosystem health and disaster risk – categorized more broadly as Eco-DRR – limit rural communities' vulnerability and exposure to natural hazards.
As disaster risk reduction touches on a number of sectors and institutions, closer intergovernmental working relationships, can reduce the occurrence and impacts of disasters. Participants from local governmental administrations of Khatlon and representatives from the Committee of Emergency Situations and Civil Defense, Ministry of Agriculture and other relevant agencies jointly discussed the outcomes attained and participatory approaches developed with civil society organizations, pasture user unions, women's groups and international development organizations.
Over two days participants jointly endorsed the realization that achieving sustainability requires a change in mindsets at all levels. National strategies and pol­icies have to firmly establish the inextricable linkages between disaster risk reduction and environmentally sound and profita­ble agricultural production systems that are built on sustainable land use management practices
Built on the achievements attained through the Swiss investments in Muminabad district, the recent signing of a cooperation agreement between the Government of the Republic of Tajikistan and Caritas Switzerland aims to foster better appreciation of these linkages within national policies and processes. Upcoming agreements with the Khatlon oblast administration and the Committee of Emergency Situations and Civil Defense will further strengthen inter-ministerial cooperation with an aim to influence effective regulatory frameworks and an enabling policy environment to support ECO-DRR approaches.
For more information:
Arabela Philipona                                           Fazila Beknazarova
Project Officer                                                 Research Assistant
Caritas Switzerland                                        Caritas Switzerland