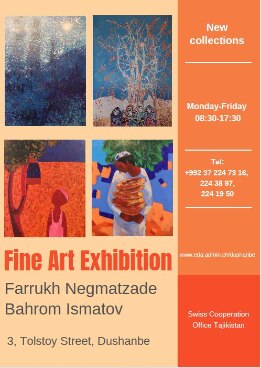 Short bio:
Farrukh Negmatzade was born in 1959 in Dushanbe, Tajikistan. Graduated from Moscow Art School under the Academy of Arts of USSR. In 1982 graduated from Moscow State Art Institute named after V.I. Surikov. Member of exhibitions on republican, USSR and international level. His works are in museums and private collections worldwide.
Another side of art life of modern Tajikistan is presented by works of Farrukh Negmat-zade. Farrukh Negmat-zade's canvases sustained in a specific and realistic manner seem slightly unexpected. To remain true to old kind traditions and stay away from any leading modern tendencies is not so easy in our days. Farrukh's paintings are exhibited in the different parts of world and are part of numerous private collections spread all over the world.
Short bio:
Bahrom Ismatov was born in 1979 in Dushanbe. He graduated from Olimov State Art College in 1998 and from Tursunzade Tajik State Institute of Art in 2004. Since 2004 he is a teacher of easel painting.
A member of the Union of Artists Bahrom participated in a number of republican and international exhibitions: "Surush 2001" (Dushanbe), "Surush 2002" (Dushanbe), International Fine Art Exhibition "Art of Nations" on the occasion of 10th anniversary of the International Confederation of Unions of Artists in Moscow (2004), "Ecology 2004" (Moscow), in 2003 and 2005 – in Tashkent Biennale and in Iran Biennale of Islamic countries in 2006. He also took part in the Starter project on Contemporary Art in Tajikistan in 2007, and in the International Contemporary Art exhibition in GBAO (Nature-Art), in Tashkent Biennale of 2007 in the project Nature-Art, exhibition in BCC (Art basement) in 2008, and in Astana "Youth project" in 2008. Bahrom's works are a part of private collections in Tajikistan, Russia, Europe and Asia.