Embassy of Switzerland in Thailand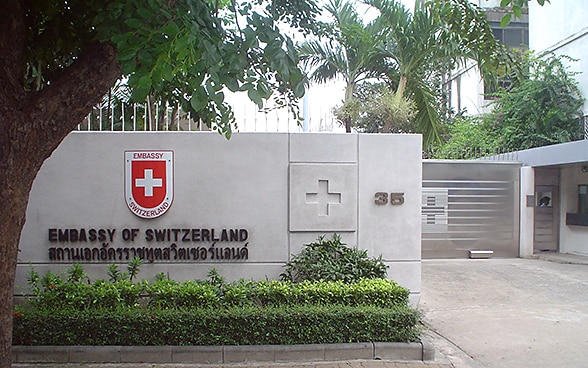 As the official representation of Switzerland, the embassy covers all matters concerning diplomatic relations between the two countries. It represents Swiss interests in the areas of political, economic and financial affairs, legal arrangements, science, education and culture.
Consular services on appointment only
Due to the new COVID-19 outbreak and the measures imposed by the Thai authorities, the consular section of the Embassy is only open for visitors with prior appointments. Appointments for consular services can be requested online.
Important information from the Swiss Compensation Office
In March 2020, the Swiss Compensation Office (based in Geneva) adapted its procedure for life certificates. This procedure will be valid until the end of April 2021.
Procedure valid until 30.04.2021:
The Swiss Compensation Office in Geneva will temporarily accept life certificates by e-mail due to the current situation, i.e. delays in postal traffic and various difficulties in visiting authorities. These can be confirmed by the insured person himself/herself by means of a signature (without an official stamp).
If the insured person wishes an extension because the deadline for submission is imminent, they should inform the compensation office, since if the document is not received, payment will automatically be postponed.
From 1 May 2021, this procedure will be adapted for security reasons. The Swiss Compensation Office envisages that insured persons will then again have to submit an official life certificate confirmed by an authority. If this is not possible due to the situation that will then apply, an additional witness confirmation could become necessary. New information will be available in the course of April 2021.
Enquiries and life certificates should be sent to the following e-mail address: sedmaster@zas.admin.ch . In urgent cases, the Swiss Compensation Office can also be reached by telephone on +41 58 461 91 11.
⚠️ This means that pension recipients can sign the life certificates themselves.
Consular services in Bangkok
New Online Consular Services

The Embassy of Switzerland in Bangkok and its Regional Consular Center is pleased to inform the registered Swiss nationals about the expansion of our online services. The following consular services can now also be ordered and paid for by credit card at the FDFA online counter:
Certificate of nationality and registration
Confirmation of pension
Confirmation of driver's license
Confirmation of Swiss passport
For confirmation of driver's licenses and passports, the respective original documents must be sent to the Regional Consular Center in Bangkok.
These new online services are available to Swiss nationals who are registered at the Regional Consular Center in Bangkok and have their official residence in one of the following countries: Cambodia, Laos, Malaysia, Myanmar, or Thailand.
If you have any questions regarding our online services or if you want to make an appointment, please contact us at bangkok.cc@eda.admin.ch or call us at +66 2 674 6900 .