Consulate General in Ho Chi Minh City
Current Situation in Vietnam

Status: 8 April 2020 (unchanged since 6 April 2020)

While trying to keep all attached information up-to-date, the Embassy and the Consulate General are not in a position to vouch for its accuracy in view of the frequently changing situation.


General information

The assembly of more than 2 persons in public spaces is prohibited and it is compulsory to wear facemasks.
"Social distancing", i.e. retaining a minimum 2 meters distance between persons has to be observed.
The Vietnamese government urges the population to stay at home and only to leave for necessary errands (e.g. to purchase food or medicines) or to pursue professional activities considered as essential. Detailed information can be found in the relevant instructions of the Vietnamese Government Office dated 3 April 2020

(PDF, 702.4 kB)

.
Except for food stores, pharmacies and other shops and services considered as essential, all other retail and service business remain closed. With the exception of some home-deliveries, this closure order also comprises restaurants, cafés, bars and entertainment venues of all kinds.
Everyone is called upon to register an online health declaration (https://tokhaiyte.vn/, tab "For foreign guests" or by smartphone app NCOVI). It is advised to print this health confirmation or save it on your smart phone for further reference.


Transport and travel

Public transportation services (trains, buses, as well as taxis, car hailing services etc.) are greatly reduced and in some places not available at all.
For the time being one (1) daily train service in each direction connecting Hanoi, Da Nang and Ho Chi Minh City remains operational (reservations at vetau.com.vn).
Domestic flight services within Vietnam are greatly cut back. Airlines maintaining their operations can be contacted for information.
International flights in and out of Vietnam are also significantly reduced.
Airlines are requested not to transport any passengers into Vietnam until 15 April 2020.
Persons authorized to enter Vietnam with a special permission will be subjected to a strict health check and a compulsory 14 day quarantine. The cost for food and lodging will have to be borne by the person concerned.
Contact with the Consulate General

Citizens of Switzerland and Liechtenstein can contact the Consulate General of Switzerland in Ho Chi Minh City for further queries. The Consulate General can be reached by phone from Monday to Sunday between 08.00h and 18.00h at +84 28 6299 1200 (after the language choice and extension option, please chose option five). Should all consular staff be busy with other callers, please call again later.

In an emergency, the FDFA Helpline can be contacted around the clock.
Swiss non-resident travellers in Vietnam

In view of the extraordinary circumstances, we urge non-resident Swiss citizens in Vietnam to register on "Itineris" and keep the information updated at all times. This will allow the Consulate General in Ho Chi Minh City to contact them when needed.

The Federal Council has called on Swiss travellers to return to their permanent place of residence in Switzerland or abroad. With increasing numbers of international flights cancelled and travel / transit restrictions in place, this call has become urgent. For Swiss travellers in Vietnam, now is the time to heed this appeal and to contact your airline, travel agency or travel insurance to organize the return journey.
Return to Switzerland or Liechtenstein

To help Swiss and Liechtenstein citizens return home to Switzerland in case commercial flights are no longer available, the Swiss Federal Department of Foreign Affairs FDFA has started a program to charter planes from select destinations throughout the world.

Travellers who wish to fly home to Switzerland or Lichtenstein with an assisted return, if commercial flights from Vietnam to Switzerland were no longer available, should first register on "Itineris". For the evaluation of the number of potential passengers, they should then complete the relevant form (PDF, 291.6 kB), scan it and return it to the Consulate General in Ho Chi Minh City by e-mail. Should it not be possible to fill in the form and scan it, you can send all required information as text by email.

PLEASE NOTE that no FDFA special flight from Vietnam to Switzerland is confirmed at this time and that it is also not known whether and when it might be realized. The Swiss Consulate General will contact all registered travellers, should such a flight become available.

Qatar Airways only offers flights from Vietnam until 11 April 2020. The last flight from Hanoi via Doha to Zurich will leave on 9 April and from Ho Chi Minh City on 11 April 2020.
What does the FDFA advise?

Many Swiss nationals travelling abroad ask the Federal Department of Foreign Affairs FDFA for recommendations and advice on their return journey. A list of questions and answers.
Entry regulations Switzerland

Switzerland suspended the entry into Switzerland for foreigners (with the exception of Liechtenstein) as from 19 March 2020 until 15 June 2020. Airport transfer is permitted without restrictions. For details please refer to the webpage of the Swiss State Secretariat for Migration SEM.
Swiss and Liechtenstein citizens as well as foreign nationals with a valid Swiss residency permit, cross border permit or "carte de légitimation" are exempt from this suspension and can enter Swiss territory.
Foreign nationals (EU/EFTA, Vietnamese and all other nationals) who are returning directly to their country of permanent legal residence are allowed to transit through Switzerland by land and air.
Information for visas to Switzerland
Entry regulations Vietnam

Vietnam has suspended entry for foreigners until further notice.
General information

All Swiss citizens in Vietnam are called up to follow the instructions and recommendations of the Vietnamese authorities.

For general information related to the Novel Coronavirus kindly consult the information and directives of the Vietnam Tourism Advisory Board, local authorities (in Vietnamese only), their recommendations (in Vietnamese only) and the recommendations of the World Health Organisation WHO

On federal level, the Swiss Federal Office of Public Health FHPO informs in regards to the Novel Coronavirus and publishes travel advice accordingly.

The Liechtenstein Ministry of Social Affairs provides a wide range of information sources on its webpage.

The Travel Advice FDFA (in German, French and Italian) offers travellers basic information for travel preparation by informing on possible risks and certain precautions. They are to be considered as a complementary source of information.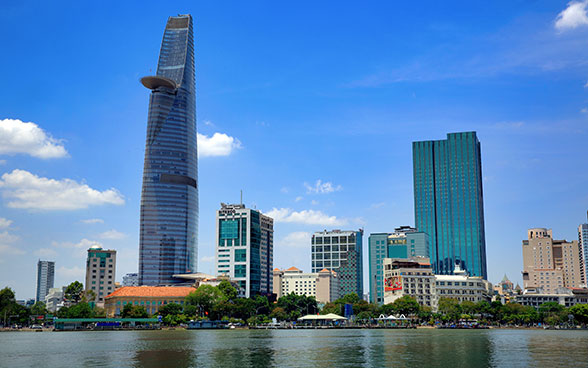 Please note that you need two documents of identification when visiting the Consulate General. One document (ID / driver's license or any other identity document with the owner's photo and identity information) must be deposited at the lobby of the Bitexco Financial Tower in order to get access to the office tower. One document (passport) must be presented at the counter of the Consulate General of Switzerland.