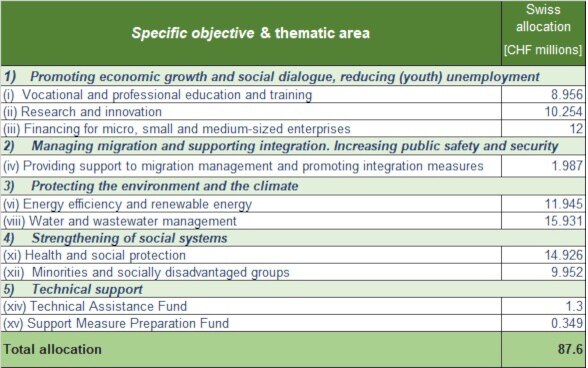 Specific objectives and thematic areas
1.    Promoting economic growth and social dialogue, reducing (youth) unemployment

(i) Vocational and professional education and training
Indicative Swiss allocation: CHF 8.956 million
The 'VET Programme Hungary' aims to contribute to the objectives of the Hungarian Strategy VET 4.0, namely the renewal of the attitudes of final examination in VET; strengthening dual vocational education and training with the involvement of SMEs; improving career orientation and guidance to improve the quality of VET teaching and training and enhance the labour market relevance of VET.
(ii) Research and innovation

Indicative Swiss allocation: CHF 10.254 million
The 'Research Programme Hungary' will contribute to the economic growth and competitiveness of Hungary by strengthening the research excellence and innovation capacities of Hungarian research organizations, universities and enterprises and by facilitating the research and innovation cooperation with international partners. All Programme Components will enhance the relations of the Hungarian research and innovation communities with leading RDI actors and networks in the European Research Area and improve the alignment with ERA policy objectives.
The thematic area will also support a research project entitled 'Partnership between Andrássy University Budapest (AUB) and Swiss Universities', which aims at strengthening the role of Andrássy University as an international research centre and promote academic exchanges with Switzerland.
(iii)            Financing for micro, small and medium-sized enterprises

Indicative Swiss allocation: CHF 12.0 million
The scheme entitled 'Strengthening SMEs through enhanced access to finance' will support the development of SMEs in the creative industry by providing access to finance and enable SMEs to expand and create jobs. The project is expected to increase the added value produced by domestic creative industries, connect their domestic activities into international value chains and expand their export activities.
2.    Managing migration and supporting integration. Increasing public safety and security

(iv)            Providing support to migration management and promoting integration measures
Indicative Swiss allocation: CHF 1.987 million
The 'Fight against human trafficking' programme shall increase the effectiveness of the fight against human trafficking by developing prevention measures for the entire society and specifically for vulnerable groups; by improving cooperation between bodies involved in the fight against human trafficking as well as enhancing the cooperation between Hungary and Switzerland; and by improving services for reintegration of victims.
3.    Protecting the environment and the climate

(vi)            Energy efficiency and renewable energy
Indicative Swiss allocation: CHF 11.945 million
The Programme 'Geothermal energy resources for district heating' is aimed at the reduction of greenhouse gas emissions in district heating systems and the promotion of renewable energies by increasing the use of geothermal energy resources through modernization of existing wells, or construction of connection of geothermal wells to district heating systems.
(viii) Water and wastewater management

Indicative Swiss allocation: CHF 15.931 million
The Programme 'Improved water quality in Hungary' aims at improving the water quality in Hungary by strengthening the municipal drinking water supply networks and comprehensive improvements in municipal wastewater treatment plants, including the trial of a targeted elimination of micro-pollutants.
4.    Strengthening of social systems

(xi)            Health and social protection
Indicative Swiss allocation: CHF 14.926 million
The 'Hospice-Palliative Care Programme' aims to improve the national system of hospice and palliative care services in order to improve the quality of services and to provide equal access to them by developing a national system of integrated palliative care units on the regional level, by strengthening existing in-home hospice service providers and their cooperation with the integrated units, by further developing new types of services and also by organizing trainings and campaigns.
The goal of the individual project entitled 'Improving life-saving skills for LIFE together' to be implemented by the National Ambulance Service is to create a first aid education network to save lives, prevent long-term health damage and reduce health inequalities.
(xii)           Minorities and socially disadvantaged groups

Indicative Swiss allocation: CHF 9.952 million
The Programme 'Availability of digital spaces and improved digital competencies of disadvantaged groups' aims to increase the digital literacy of disadvantaged people, including Roma, contributing to improve employability among the adult working age population, encourage adult learning with the aim for social inclusion, and improve access to job opportunities. All these contribute to increase their empowerment and lead them to become active citizens.
5.    Technical support

(xiv)          Technical Assistance Fund
Indicative Swiss allocation: CHF 1.3 million
(xv)           Support Measure Preparation Fund
Indicative Swiss allocation: CHF 0.349 million