Embassy of Switzerland in Israel
Travelcheck
To see what rules apply to your own particular situation when entering Switzerland, consult the online Travelcheck.
COVID-19 travel restrictions
For information in connection with the new coronavirus (COVID-19), the information and instructions of the local authorities (Israeli Ministry of Health) as well as the recommendations of the World Health Organisation (WHO) must be observed in particular. At federal level, the Federal Office of Public Health FOPH informs the population about the COVID-19 coronavirus.
The FDFA asks all travelers abroad to register their journey and place of stay on the Travel Admin App to ensure that the representation can contact you.
Travelling to Switzerland
Due to COVID-19, the Swiss government has imposed entry restrictions on travelers from certain countries and territories.
Who can enter Switzerland?

What are the requirements to enter Switzerland?
Who needs to go into quarantine upon arrival in Switzerland?
Due to the epidemiological development, Israel no longer belongs to the risk countries as of 24 May 2021. As a result of the adjustment, the regular entry requirements will apply again.
Download: entering Switzerland
Please inform yourself about the currently valid entry requirements on the website of the FOPH.
Travelling to Israel
Due to the global COVID-19 situation, travelers without Israeli citizenship or residence in Israel are not allowed to enter Israel. Exceptions are possible under certain conditions. (see website of the Israeli migration authorities).
The Israeli Ministry of Health provides information on its website about the currently applicable entry and quarantine regulations.
The Israeli Ministry of Health hotline +972 (0)8-6241010 is available for questions regarding the new coronavirus.
For information on the availability of flights to and from Israel, we refer you to the website of the Israel Airports Authority
President of the Swiss Confederation Guy Parmelin: National Day 2021 greetings for the Swiss abroad
© WBF / swissinfo.ch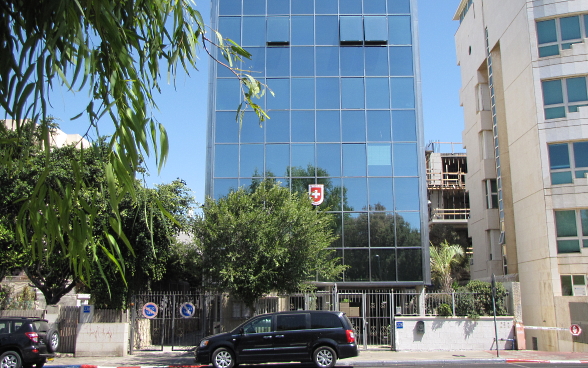 As the official representation of Switzerland, the embassy covers all matters concerning diplomatic relations between the two countries. It represents Swiss interests in the areas of political, economic and financial affairs, legal arrangements, science, education and culture. 
Links
Swissinfo
News from a Swiss perspective:
Wake up now
Wake up now - Diplomacy towards a healthy future