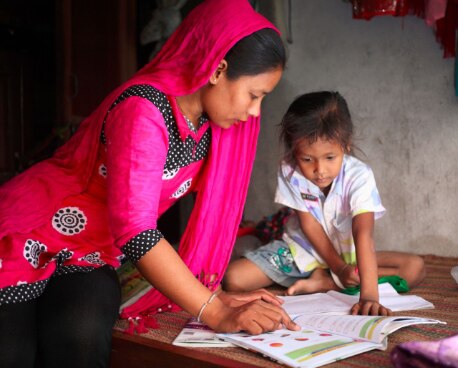 SDC's engagement in the field of migration in Nepal dates back to 2011, a time when labour migration – despite the important number of people leaving for foreign employment - was not yet on the agenda of the GoN, and Switzerland was the only bilateral development partner in Nepal engaged in the field of migration.
Through its project work on the ground, Switzerland was able over the years to acquire a comprehensive understanding of migration processes in the Nepalese context, of the risks (such as exploitation or fraud of migrant workers through excessive fees charged by recruitment agencies or confiscation of passports) and opportunities (including investment opportunities through remittances, social advancement), and to build a broad network.
With the adoption of the SCS 2018-2021, a separate domain for migration was created and the issue became a strategic focus of Swiss development cooperation in Nepal. 
In its programmatic and policy work in the migration sector, Switzerland today pursues the objective to make migration more beneficial for all by better protecting workers and their families, and by supporting the GoN to strengthen its migration governance.
It does so, for instance, by ensuring that migrant workers are better trained and prepared for the international labour market and by supporting migrants and their families in building savings and assets. Collaborating closely with the GoN, Switzerland also helps to strengthen the capacities of local governments to provide relevant migration services (such as information on the migration process, migrants' rights, opportunities and challenges, as well as legal counselling) to migrant workers and their families. At the same time, it also supports Nepalese missions in destination countries to enhance their assistance to migrant workers in distress.