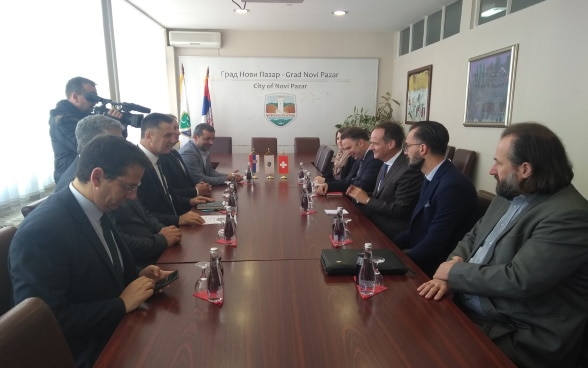 The Swiss delegation, headed by the Swiss Ambassador, H. E. Philippe Guex, included representatives from the Swiss Embassy and its Cooperation Office, as well as one representative from the Swiss Agency for Development of the Federal Department of Foreign Affairs in Bern.
As part of the support that it provides to the Republic of Serbia, Switzerland has over several years funded many initiatives and projects in South-West Serbia. Our current support to the region amounts to more than EUR 1.5 million.
The projects supported by Switzerland relate to two specific areas of work: human security and international cooperation. Both fall into the overall goal of Switzerland to contribute to the security and stability of Serbia.
In the field of human security, Switzerland has been supporting initiatives related to media development, youth participation, legal training and dialogue on democratization and fighting extremism. In the field of Swiss international cooperation, Switzerland is investing in the fields of education to employment, renewable energy, municipal and economic development, as well as migration management.
Switzerland's partners in the region include the OSCE Mission in Serbia, UNDP, UNOPS and Civil Society Organizations.
On the 16th of December 2019, the meeting of the "friends of South-West Serbia" which gathers like-minded Embassies whose aim is to support the region will take place at the Swiss Residence in Belgrade. The aim of the visit was also to prepare the meeting of the friends of South-West Serbia.
Switzerland has a strong interest in the region and is monitoring the political developments taking place in South-West Serbia. We welcome the role of the National Minority Councils throughout Serbia, including the Bosniak National Council.
The National Minority Councils are playing a critically important role in ensuring that minorities have a voice in Serbia and that their human and political rights are respected.
You may find the media coverage of the visit below:
Swiss Ambassador visited the Municipality of Tutin
Swiss Ambassador visited the Municipality of Novi Pazar