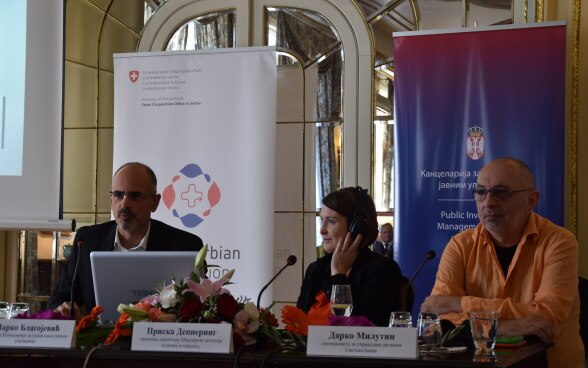 Taking stock of the Swiss pledge to Serbia five years after the severe floods happened, Switzerland managed to keep up the promise from the post flood donors' conference to "Rebuild together" Serbia.
The main intention of the Swiss pledge was to direct the EUR 6.8 million to the needs that the Government of Serbia mapped. Switzerland contributed to the National Disaster Risk Management Program as one of the first donors. The Swiss funds triggered other contributions, bringing in the first plan the systematic changes focused at disaster prevention and risk reduction.
Different Swiss institutions (SDC, SECO, Humanitarian Aid and Swiss private contributions) contributed to the pledge and funds were well channelled and resulted in synergies. This was possible thanks to the professional management of the Public Investment Management Office (PIMO)  to which Switzerland also provided institutional support.
The main part of the Swiss pledge went to 3 projects:
The Municipal Disaster Risk Reduction Project (EUR 2.91 million) improves resilience to floods in Paracin and Uzice. In Paracin, the height of 7 bridges will be heightened, thus reducing the flood risk, while in Uzice the project improves the early warning system.
The Support to End to End Early Warning System Project (EUR 1.82 million) improves the early warning system in West Morava river basin.
The Disaster Risk Financing and Insurance program (EUR 550,000) strengthens the Government of Serbia's financial preparedness for disasters.
While the rest of the pledge was added to the ongoing Swiss projects in Serbia:
Modernization of the Tent B plant
Joint Program for Roma and marginalized groups UNICEF and Red Cross
House rehabilitation for the vulnerable with EHO
Small Projects (different, including PIMO institutional support)
Thanks to good planning and coordination with the Serbian government, Switzerland's pledge was used for comprehensive introduction of Disaster Risk Reduction in Serbia.
Overview of the Swiss support to Serbia for the National Disaster Risk Management Program (PDF, 1.2 MB)