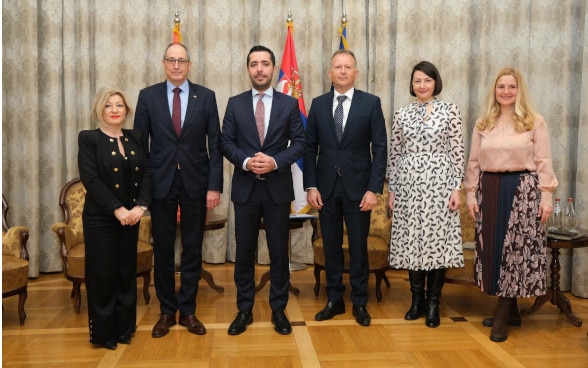 Ambassador Schmid congratulated Mr. Momirović on his appointment and highlighted the excellent economic relations between our two countries. He pointed out that the current developments in bilateral trade look promising and that they have increased by last year, especially in trade of services where Serbia registers a surplus in exports. He noted that on the investment side, Switzerland remains among the top foreign investors in Serbia and that there is an increased interest of Swiss companies for investments in capital infrastructure projects.
Both interlocutors stressed the significance of the longstanding Swiss cooperation program in supporting the reform objectives of the Serbian government in areas like economic development, employment, dual vocational education and innovation. Of specific significance for the Ministry is the Swiss Program on Capacities for Trade Policies with the aim to strengthening the capacities to successfully conclude trade negotiations. For this purpose, the government of Switzerland has allocated 700'000 CHF until 2024.
Minister Momirović also informed Ambassador Schmid about Serbia's candidacy for the Specialized Expo 2027 to take place in Belgrade and asked for Switzerland's support.