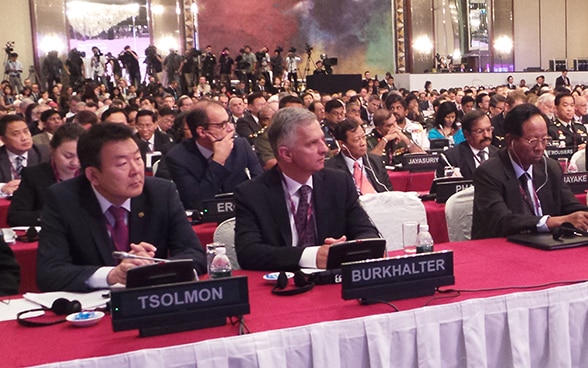 At the Shangri-La Dialogue, the most important unofficial forum for political dialogue on security at ministerial level in the Asia-Pacific region, Mr Burkhalter called for the establishment of a permanent dialogue on security matters in Asia. Based on Switzerland's experiences during its OSCE chairmanship in 2014, in particular of the Ukraine conflict, Mr Burkhalter underscored the importance of joint action on the part of all states concerned in the security of a region. Cooperative security makes it possible to develop and implement joint measures to guarantee the region's security and build mutual trust. "Cooperative security can help ensure that the Asia-Pacific is to remain a global economic powerhouse and does not turn into a zone of strategic rivalry and instability", Mr Burkhalter said at a panel on avoiding an Asian arms race.
Mr Burkhalter also used his attendance of the Shangri-La Dialogue for informal discussions with conference participants on aspects of security including measures to combat international terrorism. He highlighted among other things the importance of prevention in counterterrorism. Switzerland is supporting the Geneva-based Global Community Engagement and Resilience Fund (GCERF) for local initiatives to prevent violent extremism among groups at risk. Switzerland was instrumental in the fund's establishment and is providing CHF 5 million to support the GCERF in its first four years. On 26 May 2015 the federal councillor signed a headquarters agreement with the GCERF granting it the customary privileges and immunities for intergovernmental organisations.
The Shangri-La Dialogue has been organised in Singapore by the International Institute for Strategic Studies think-tank since 2002. The Asian equivalent of the Munich Security Conference, it brings together representatives of 28 countries in the Asia-Pacific region once a year. This year Switzerland was invited to take part as a guest.
---
Further information:
Signing of GCERF headquarters agreement (26 May 2015)

---
Address for enquiries:
Information FDFA
Bundeshaus West
CH-3003 Bern
Tel.: +41 58 462 31 53
Fax: +41 58 464 90 47
E-Mail: info@eda.admin.ch
---
Publisher: