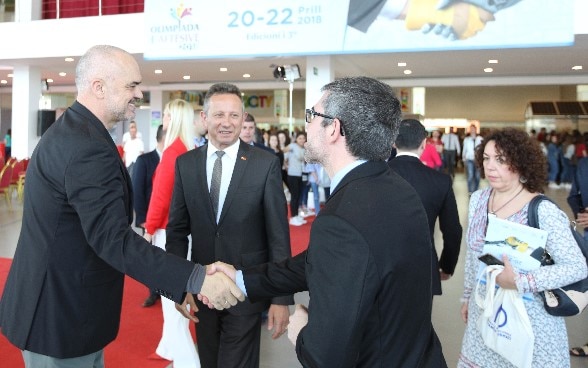 Under the special support of Swiss vocational education project 'Skills for Jobs' the third edition of the Skills Fair and Skills Olympiad started today at Expocity, City Park, Tirana. The event included hundreds many private companies, vocational schools, government representatives and key donors.
"Innovation is at the foundation of what is happening with vocational education and training. Employment is the key word for Rama 2 government and at the core of a detailed plan we have for vocational education", said Minister of Finance and Economy Arben Ahmetaj.   
"Switzerland has been one of the main contributors in vocational education here in Albania. Our programmes have brought Swiss expertise to schools. But Switzerland doesn't just strongly support vocational education in other countries through its cooperation – it is also a cornerstone of the Swiss employment system. In Switzerland, we believe in vocational education", said Swiss Ambassador Christoph Graf.
"This national fair on vocational education is now becoming a tradition and it happens today after a number of events that took place in vocational schools with the purpose of promoting professions", said Prime Minister Edi Rama. "Statistics show clearly that the salary income for students who graduate from vocational education is higher in their first job placement compared to students from general high schools", added the Prime Minister.
Different stands and booths showcased private companies, schools and vocational centres. The fair serves also as a contact point between employers and schools so that both sides find ways of matching the offer with the demand.
Several thematic workshops will take place during the three days to provide knowledge exchange for teachers and trainers on three main themes: teachers' professional development, workplace learning and quality assurance.
The Albanian Alliance for Apprenticeships – set up with support by Swiss project 'Skills for Jobs' will be present at the fair. Successful young entrepreneurs working abroad, whose companies currently collaborate with vocational schools (eg Albi Zhulali - Soft Mogul) will also attend the event to talk to pupils who are about to choose whether they will get to general education high schools or choose VET.
The fair will also showcase well-known activities of interest to groups 14-16 who are making a decision for the high school: Tirana Start Up Grind; Code like a Girl (Vodafone); Hour of Code (Microsoft).
Switzerland has been supporting Albania's vocational education sector as a key donor by rehabilitating schools, introducing modern vocational education methods and changing the framework and public perception regarding this sector.