Global challenges take the stage alongside artists at CULTURESCAPES
Seven musicians from La Paz are set to show off their experimental orchestra of native instruments in Basel, while other Amazonian artists will be taking the stage elsewhere in Switzerland. They were invited to share their creations as part of the 16th edition of the CULTURESCAPES festival, a cultural partner of the Swiss Agency for Development and Cooperation. They will use their medium – theatre, music or art – to engage with their audience on global challenges.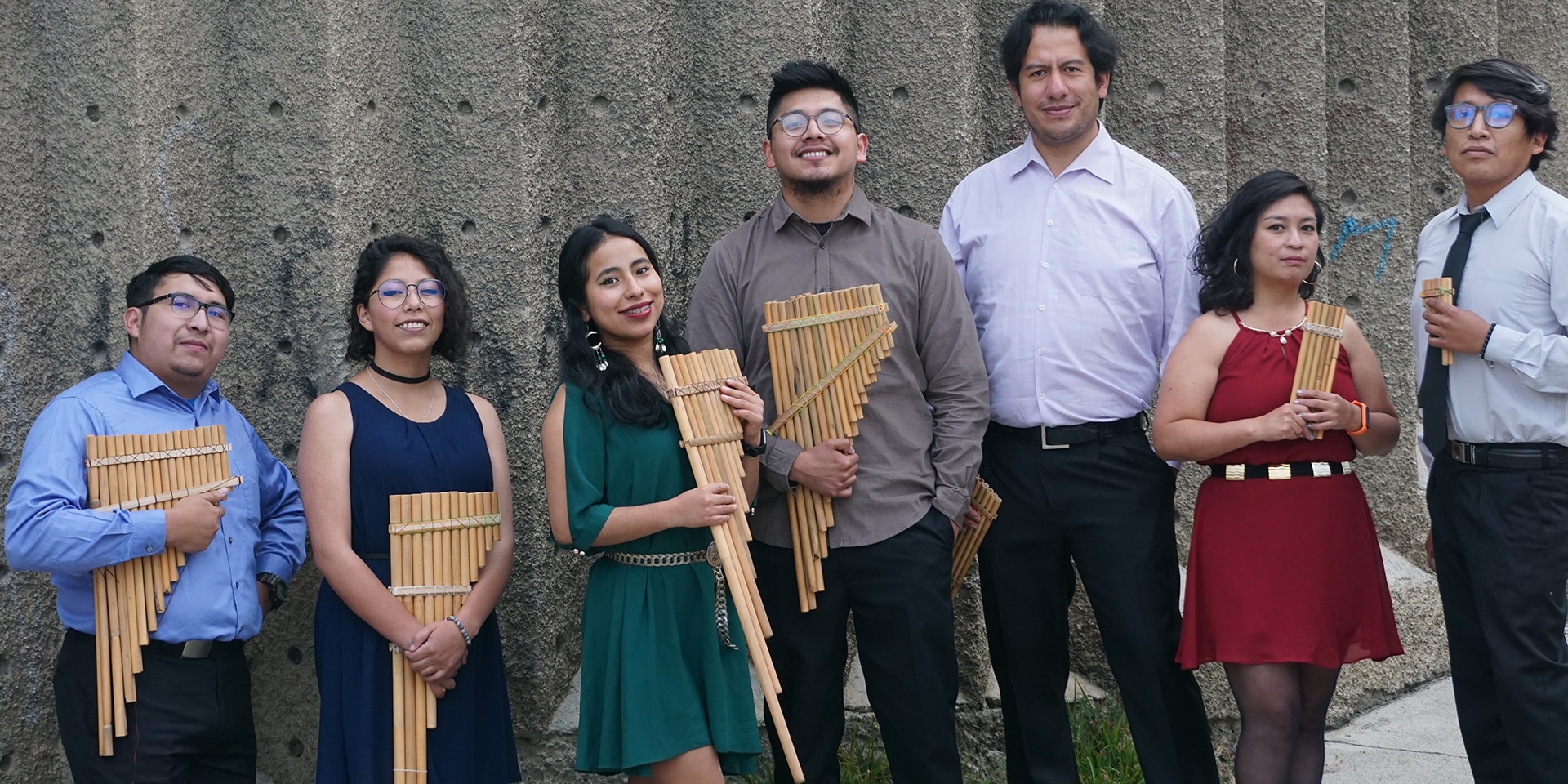 With their performances, the artists at CULTURESCAPES reinterpret current global challenges. © OEIN
The lights go down in the Stadtcasino, Basel's concert hall, drawing the audience's attention to the sikus, wankaras, pan flutes and percussion instruments laid out on eight tables on stage. Seven musicians from La Paz, who form the Orquesta experimental de instrumentos nativos (OEIN Ensemble), pick up the instruments and proceed to fill the hall with traditional music from Andes communities. They also play new songs – about a changing world. 
A forum for discussing global challenges
As in the past, the CULTURESCAPES festival will run through the entire month of October in 13 cities across Switzerland. This year's theme is 'Amazonas': artists from that region will showcase their talents in more than 40 venues across Switzerland. This year's edition of the festival will feature the OEIN Ensemble, who are bringing their music to Switzerland after performing in Germany and France. "There are two pillars to our music: our techniques and philosophy are rooted in traditional music, while we use our new repertoire to express our identity in the modern age," says composer Carlos Gutiérrez, the group's director.
The group's identity is inseparable from global sustainability issues, which are the focus of this edition of CULTURESCAPES. The Swiss Agency for Development and Cooperation (SDC) is proud to continue its cultural partnership with this festival. Not only does the festival offer a forum for discussing global challenges, but it gives the SDC the opportunity to support artists from Eastern Europe and the Global South through new collaborations, funding and networking opportunities. Through their work, the artists offer new perspectives on core issues – such as climate change, deforestation and water resources – for countries like Colombia, Bolivia and Peru. This is an effective way of using cultural events to raise people's awareness of these topics in Switzerland as well as in communities in Bolivia, for example. "Our approach to traditional music taught us how to listen," says Gutiérrez. "And I don't mean how to listen to other kinds of music and other ways of conceiving music, but, more broadly, how to listen to other people and understand what they have to say."
Institutional networking
The SDC's commitment to cultural partnerships is based on the belief that investments in culture can bring more people into the debate, generate new ideas and result in greater political participation. "With the help of the SDC's offices in South America, the artistic directors at CULTURESCAPES learned more about the local authorities, NGOs, universities and cultural institutions there, and were able to make valuable contacts," says Rudi Von Planta, head of the SDC's Culture and Development team. "In the Amazon region, the SDC works to put the cultural institutions involved in CULTURESCAPES into contact with national and regional cultural institutions in their respective countries in order to foster debate and ensure that relevant topics are included in political dialogue with governments." Due to the restrictions of the COVID-19 pandemic, the festival has also organised an online programme that is accessible to all. This created an exchange platform for the region's artists, who can meet and dialogue across geographical borders in the future.
Cultural partnerships also promote social inclusion. This is apparent in the projects in Bolivia that the SDC supports locally through the Swiss Cultural Fund, which is administered by Solidar Suisse. The project, Chiquitania Viva for example, was an arts laboratory where participants documented indigenous clothing, traditions and practices of the people of Chiquitania, a region in eastern Bolivia, through photographs, videos and images. This cultural heritage was then shared through travelling exhibitions so that other people could experience and learn from it. This project has the same goals as the OEIN Ensemble, as noted above: it promotes dialogue among the various communities that make up the country while upholding their respective ways of life. 
Synergies between cultural partnerships and global programmes
The SDC's cultural partnerships also help it work towards the objectives set out under its global programmes, which consist of multilateral cooperation and long-term cooperation projects. Martin Jaggi spent nine years in South America as the on-site head of SDC programmes. "When it comes to the sustainable use of natural resources, protecting biodiversity and fighting climate change, the Andes and Amazon regions are crucial – from a global perspective as well," says Jaggi. Protecting these regions is also important from a cultural standpoint. "Amazonia doesn't just play a key role in the environment and global economy," he says. "It's also an important site for humankind's cultural heritage. Initiatives like CULTURESCAPES take this dimension even further, filling in the gaps left by cooperation programmes and reaching out to younger generations in particular." 
And young people are indeed intent on promoting dialogue and discussion among cultures. In 2019 and 2020, the SDC supported the communications activities of the young leaders of the Coordinadora de las Organizaciones Indígenas de la Cuenca Amazónica (COICA). COICA brings together representatives of indigenous people's national organisations in Bolivia, Peru, Ecuador, Colombia, Brazil, Venezuela, Suriname, French Guiana and Guyana. It is designed to promote the interests of its constituent organisations both regionally and internationally, and it coordinates their political activity. "All of the indigenous peoples in the Amazon region benefit from its work," says Jaggi. "And this commitment dovetails with other initiatives – such as CULTURESCAPES."
The events with the OEIN ensemble and the entire CULTURESCAPES programme are available on the initiative's website.