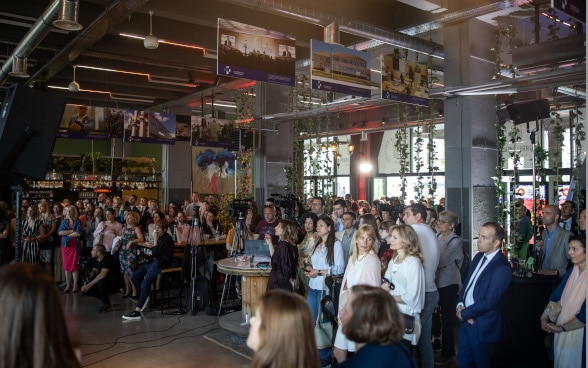 Na zvaničnoj svečanosti kojom je ujedno istaknuto tri decenije dugo partnerstvo dve države, u ime Švajcarske konfederacije obratio se Nj. E. Ambasador Švajcarske u Republici Srbiji, g. Urs Šmid, dok je ispred Vlade Republike Srbije govorila Nj.E. ministarka privrede gđa. Anđelka Atanasković. Program je prisutnima predstavio g. Rihard Koli, šef razvojne saradnje Ambasade Švajcarske u Republici Srbiji. Gosti su kasnije imali priliku da čuju video pozdrav prof. Dr Ursule Renold, šefice odeljenja za istraživanje obrazovnih sistema Švajcarskog ekonomskog instituta, na temu napretka i izazova sistema dualnog obrazovanja u Srbiji.
"Ovim događajem obeležavamo početak novog paketa razvojne pomoći ukupne vrednosti od preko 90 miliona evra. To će nam omogućiti da nastavimo našu podršku reformskim naporima Vlade Srbije i srpskog društva u naredne četiri godine - od 2022. do 2025", izjavio je Nj. E. Ambasador Švajcarske u Republici Srbiji - g. Urs Šmid i dodao: "Naš program saradnje bez sumnje predstavlja najvažniju osnovu naših bilateralnih odnosa, ali ne i jedinu. "Švajcarsko srpski odnosi su veoma dinamični i višeslojni. To nam daje solidnu osnovu za dalji predan rad, između ostalog, na jačanju vladavine prava i boljem utemeljenju demokratskih praksi. Ovo će na kraju omogućiti našim zemljama da u potpunosti i obostrano imaju koristi od ogromnog, još uvek ne potpuno iskorišćenog potencijala saradnje", poručio je Nj. E. Ambasador Švajcarske u Republici Srbiji – zaključio je ambasador Šmid. 
Ministarka privrede Anđelka Atanasković istakla je da je ovaj događaj značajan iskorak u jačanju ekonomske saradnje dve prijateljske zemlje, kao i da je Švajcarska Konfederacija tokom poslednje decenije jedna od pet zemalja sa najvećim neto ulaganjima nerezidenata u Srbiju. Ministarka je navela i da je posebno značajno to što  švajcarske kompanije u Srbiji danas zapošljavaju više od 12.000 radnika. "Posebno bih naglasila da je, prema podacima Republičkog zavoda za statistiku, samo u prva dva meseca ove godine iz Srbije u Švajcarsku ostvaren izvoz vredan od 28,9 miliona evra, što predstavlja rast od 18,9 odsto u  odnosu na isti period 2021. godine. U istom periodu, uvoz iz Švajcarske uvećan je za 93,3 odsto i dostigao je iznos od 86,6 miliona evra", navela je ministarka.
G. Rihard Koli, šef razvojne saradnje Ambasade Švajcarske, predstavio je ciljeve novog Programa i istakao da je Program saradnje sa Srbijom strateški okvir za podršku Švajcarske Srbiji, inspirisan evropskim vrednostima i standardima. "Fokus novog Programa biće stavljen na promovisanje reformi na lokalnom nivou i socijalnog uključivanja građana, njihovog većeg učešća u demokratskim procesima kao i podršci ka ispunjenju ciljeva Agende", rekao je Kohli. On je dodao da će dodatni napori biti uloženi za podršku sistemu dualnog obrazovanja u Srbiji kao i da će se nastaviti sa promovisanjem unapređenja konkurentnosti malih i srednjih preduzeća i poslovnog okruženja. Na kraju, istakao je da će naglasak biti stavljen na unapređenje otpornosti na klimatske promene, kroz mere ublažavanja negativnih efekata i prilagođavanja.
Švajcarski program saradnje sa Srbijom 2022.-2025. predstavlja nastavak dugogodišnje podrške reformskim procesima u Republici Srbiji. Švajcarska je prisutna je u Srbiji od 1991. godine, što je dokaz njene posvećenosti ovom bilateralnom partnerstvu. Do sada, finansijska podrška Švajcarske Srbiji iznosi 400 miliona evra, uz dodatnih 95 miliona evra opredeljenih za period od 2022. do 2025. godine. Švajcarska će ostati posvećena i nastaviti da podržava procese reformi u Srbiji za dobrobit njenih građana.