Ambasada Švajcarske u Beogradu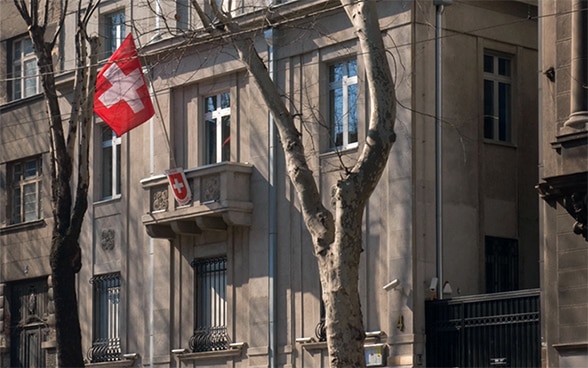 Obraćanje Predsednika Švajcarske Konfederacije povodom 1. avgusta
Zahvaljujući vama, Švajcarska je beskrajno velika zemlja.
Video poruka
Gosp. Gaj Parmelin
Predsednik Švajcarske Konfederacije i šef Saveznog odeljenja za ekonomske poslove, obrazovanje i istraživanje (EAER)
Obeležavanje švajcarskog nacionalnog dana za Švajcarce koji žive u inostranstvu
Snimljeno 16. juna 2021.
Dragi Švajcarci koji živite u inostranstvu,
Dragi sugrađani,
Koristim ovu priliku da vam se direktno obratim iz Berna. Iako format moje poruke pomalo podseća na razglednicu, to možda i ima smisla jer one često prelaze veliki put da bi prenele vesti od porodice i prijatelja.
Dragi sugrađani, Švajcarska misli na vas i prirodno je da želi da osnaži vezu sa vama na ovaj poseban dan - naš nacionalni praznik. Dan kada proslavljamo naše jedinstvo, osećaj zajedništva i bliskosti.
Švajcarska zajednica u inostranstvu skoro pa čini malu Švajcarsku. Ono što je manje poznato jeste da žene ćine većinu švajcarskih državljana koji žive u inostranstvu.
Ukoliko bismo posmatrali iz demografske perspektive, kada bismo sve Švajcarce koji žive van Švajcarske okupili na jednom mestu, dobili bismo četvrti po veličini kanton po broju stanovnika posle Ciriha, Berna i Voa. Drugim rečima, za Švajcarsku, vi ste važni, čak i ako živite na pet kontinenata, daleko – i u velikom broju slučajeva - veoma daleko od idiličnih švajcarskih predela.
U ime Saveznog Veća, veoma mi je važno da istaknem koliko vrednujemo švajcarsku zajednicu u inostranstvu i održavanje kontakta sa vama.
Organizacija švajcarskih zajednica u inostranstvu je posvećena upravo tom zadatku. Naša diplomatska i konzularna mreža takođe ima zadatak da održava veze sa našim sugrađanima koji žive van granica Švajcarske. Ta veza je utoliko vrednija obzirom na celu situaciju sa pandemijom korona virusa u svetu. Kao ministar obrazovanja, takođe sam svestan uloge koju je odigralo osamnaest švajcarskih škola koje su priznate i podržane od strane Konfederacije.
Malopre sam spomenuo pandemiju korona virusa. S obzirom na to da nijedna država nije izbegla posledice ove pandemije, pretpostavljam da ste, gde god se nalazili, i vi doživeli trenutke neizvesnosti, brige a možda čak i patnje. Dakle, moja poruka je takođe i jedan vid podrške koju Švajcarska želi da pruži svojim sugrađanima koji žive u inostranstvu.
Za švajcarskog građanina, bilo da živi neposredno blizu Švajcarske ili dvanaest vremenskih zona daleko od obala Aare, za osećaj pripadnosti svojoj domovini ušuškanoj među Alpima, dovoljna je i slika, utisak ili osećaj a ne nužno nešto opipljivo. Uopšteno govoreći, da bi se osetio osećaj patriotizma i pripadnosti, nije puno potrebno. Dovoljna je švajcarska zastava, fotografija Materhorn vrha, fondu - i već́ smo tu. Ali vi imate priliku da budete više nego samo običan građanin koji sa sobom nosi određenu sliku. Vi imate i priliku da izrazite svoju političku volju uz pomoć́ političkih prava koja uživate u inostranstvu. Vaš život kao građanina se ne završava na granicama. On ne poznaje granice.
Zbog toga, zahvaljujući vama, mala Švajcarska je, ako tako možemo da kažemo, beskrajno velika zemlja.
U ovim neizvesnim vremenima, koja su i dalje teška i za nas ovde u Švajcarskoj ali i u drugim državama, želim da vam uputim reči ohrabrenja i da vam poručim da moramo ostati jaki. Ali iznad svega, želim da vam se iskreno i iz srca zahvalim što ponosno predstavljate Švajcarsku koju volimo širom sveta. Zahvalan sam vam na vašoj ulozi i u ime naše države, šaljem vam najtoplije pozdrave.
Video obraćanje, govor u PDF formatu kao i švajcarska nacionalna hima dostupni su ispod na engleskom jeziku.
President of the Swiss Confederation Guy Parmelin: National Day 2021 greetings for the Swiss abroad
© WBF / swissinfo.ch
Proslava Nacionalnog dana Švajcarske 2021
Dragi građani i građanke Švajcarske u Srbiji,
Ambasada Švajcarske u Srbiji vam od srca želi lep i svečan 1. avgust. Usled pandemije virusa COVID-19 i definisanih procedura, ove godine nažalost nismo u mogućnosti da organizujemo javnu proslavu švajcarskog nacionalnog praznika. Najljubaznije vas molimo za razumevanje i radujemo se ponovnom susretu nekom drugom prilikom.
Informacije i saveti za putovanje u Švajcarsku
Promene po pitanju ograničenja ulaska u Švajcarsku za osobe iz trećih zemalja koje su vakcinisane su stupile na snagu 26. juna 2021. godine. Više informacija dostupno na početnoj internet stranici Ambasade Švajcarske na nemačkom, francuskom, engleskom i italijanskom jeziku.
COVID-19: Kontinuirana podrška Švajcarske Srbiji
Kao dugogodišnji partner Srbije, Švajcarska je spremna da dodatnim sredstvima podrži Srbiju u borbi sa trenutnim izazovima u okviru krize sa COVID-19 virusom. Švajcarska će opredeliti do 600,000 evra za hitne akcije. U skladu sa dosadašnjim prioritetima podrške, Švajcarska će se i sada fokusirati na pružanje podrške najranjivijim grupama u Srbiji.

Trenutna kriza je izazov za zemlje širom sveta. Švajcarska je jedna od najteže pogođenih država u Evropi. Uprkos tome, i dalje ostajemo posvećeni saradnji sa našim partnerskim državama i to na duže staze. Do sada smo doprinosili ekonomskom i socijalnom razvoju Srbije i nastavićemo sa tim i u budućnosti. Čim se steknu potrebni uslovi, nastavićemo naš rad, zajedno sa Vladom Srbije, na ublažavanju socijalnih i ekonomskih posledica trenutne krize.
U funkciji zvaničnog predstavništva Švajcarske, ambasada obavlja mnoštvo različitih aktivnosti koje pokrivaju sve tematske oblasti diplomatskih odnosa između dve vlade. Ona zastupa interese Švajcarske u oblasti politike, privrede, finansija, pravosuđa, nauke, obrazovanja i kulture.
Detailed information can be found on the german, french or english page.
Linkovi
Linkovi
Informacije o Švajcarskoj
Putovanja
Mediji
Dokumenti