Beirut, a year on…
A year ago, the Swiss architect Emilie Schmid boarded a flight for Beirut wearing the uniform of the Swiss Humanitarian Aid Unit as a member of a team that helped rebuild the city after the tragic explosion. She talks about her experience and the importance of Swiss humanitarian aid. We are publishing this article to mark World Humanitarian Day and pay tribute to the many people who dedicate their lives to helping others.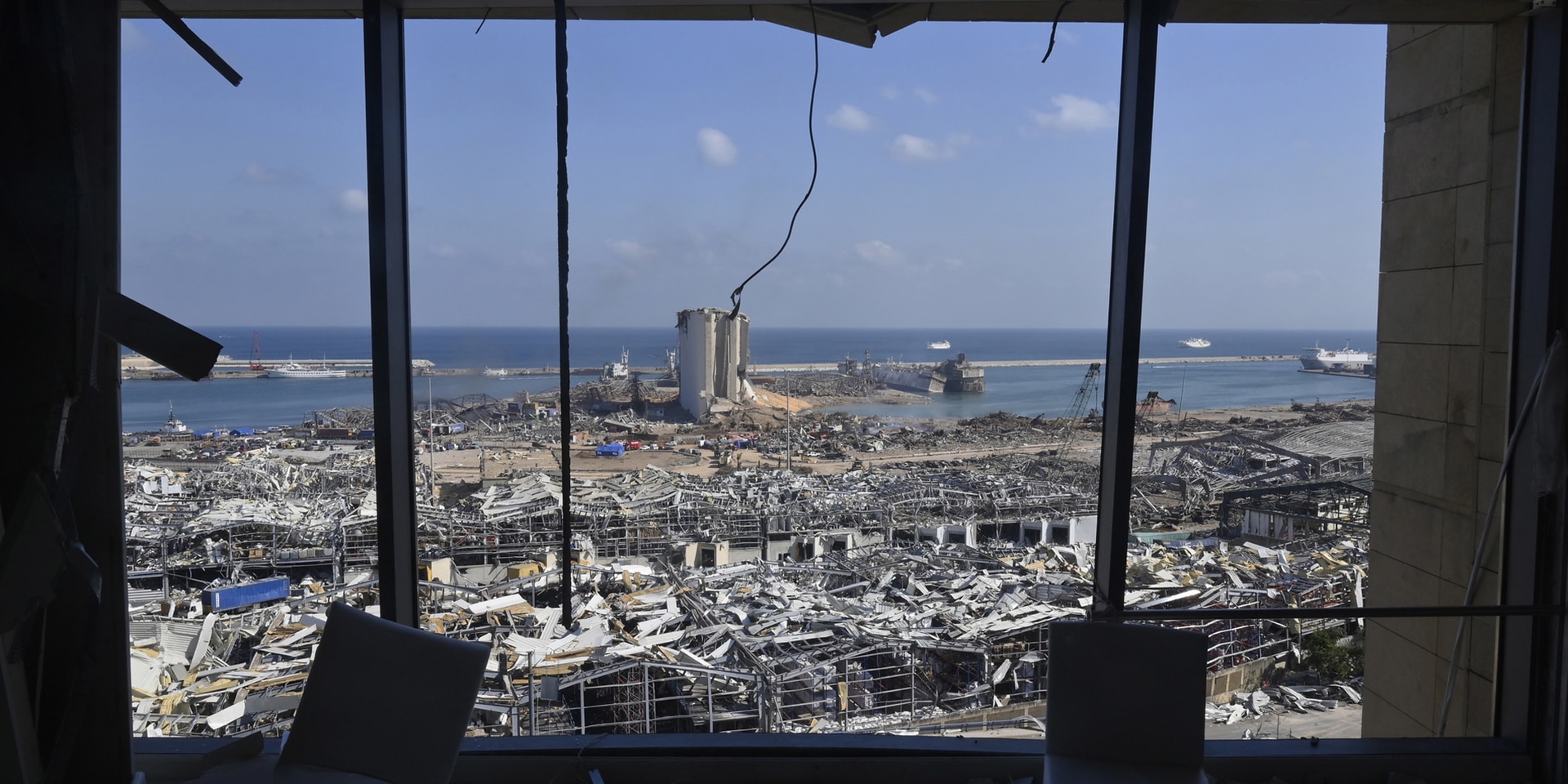 The explosion that tore through the port of Beirut destroyed large swaths of the city, killing over 200 and injuring over 6,500 people. © Keystone
Tuesday 4 August 2020, around 5pm in Switzerland, 6pm in Beirut. Emilie Schmid is mountain hiking. She doesn't know it yet, but a huge explosion has just torn through the port of the Lebanese capital. Within minutes, social networks and television stations around the world disseminate dramatic images of the disaster. Dozens of square kilometres of the city have been levelled. The explosion killed hundreds and injured thousands of people.
"We had to launch an immediate response"
Emilie is an architect and urban planner. She found out about the disaster from the media. "I reported immediately that I was available to travel to Beirut as part of the Swiss rapid response team," she recalls in an interview on 19 August 2021, World Humanitarian Day and the first anniversary of the explosion in Lebanon.
"On Saturday morning, my emergency passport in hand, I boarded a plane with other members of the Swiss rapid response team that was deployed to Beirut. I spent five weeks in the city."
Emilie and 37 other SHA experts helped to rebuild 2 hospitals and 19 schools and provided medical support to a birthing unit. She was a member of the reconstruction team. 
"Everyone was in a state of shock, both local residents and the staff of the Swiss embassy, which had also sustained damage. There was rubble everywhere. We had a big job to do right away. We had to launch an immediate response."
The SHA is the operational arm of Swiss Humanitarian Aid. It is part of the Swiss Agency for Development and Cooperation (SDC) of the Federal Department of Foreign Affairs (FDFA). The SHA is a pool of approximately 700 experts with various professional backgrounds who are on call to be deployed at short notice. Switzerland has a long-standing humanitarian aid tradition. Humanitarian aid is a pillar of its foreign policy and a cornerstone of the strategies that guide its action.
Extraordinary energy and resilience
"What most impressed me about this mission was the enormous energy of people working together. The Lebanese population, the staff of the Swiss embassy which sustained damage from the explosion, hospital personnel and humanitarian aid workers: everyone was filled with an extraordinary drive to help rebuild the city. Despite the extent of the damage, their commitment was total and they responded to the challenge with agility and flexibility."
Emilie returned to Lebanon between January and May to complete the work. "In May, several schools ready to open for classes and a newly rebuilt hospital were handed over to the Lebanese government. The mission was very successful," concludes Emilie.
"We were all shocked by the extent of the damage caused by the explosion that devastated the heart of Beirut. It is heartening to see the concrete results of Swiss solidarity," said Federal Councillor Ignazio Cassis, head of the FDFA, during his most recent trip to Lebanon in April.
Swiss assistance is now being provided through longer-term education, migration and youth support projects run by the Swiss embassy and cooperation office in Beirut.
"Making an impact on people's lives"
Before her deployment to Lebanon, Emilie Schmid had taken part in missions to Mozambique after Cyclone Idai, and to Lesbos, Greece, to help refugees. She joined the SHA in 2016 and is also involved in the Geneva Technical Hub, the UN/FDFA centre of expertise dedicated to greening humanitarian action. In addition to all these responsibilities, Emilie also runs her own architecture firm.

"I want to be able to use my skills to make an impact on the lives of people who are in greater need than me. Architects are of course needed in Switzerland to build houses and schools. But providing assistance in disaster situations or in countries with fewer resources is very important and also personally rewarding," she adds.
"Seeing people smile and regain some normality in their lives tells me that we're doing the right thing. We are fortunate to live in a very privileged country. Giving back is only natural."
UN World Humanitarian Day, FDFA tribute
19 August is the UN's World Humanitarian Day, which honours the many thousands of women and men who dedicate their lives to humanitarian work.
This article pays tribute to the people who dedicate themselves, at times risking their lives, to helping others in emergency situations and natural disasters.
Helping people in need in crisis and emergency situations is a priority for the FDFA.
Swiss Humanitarian Aid responds rapidly and effectively to a large variety of emergency situations in different countries (fires, COVID-19, flooding, migration and climate crises, conflicts, etc.).
Its work is guided by the Federal Council's Foreign Policy Strategy and its thematic follow-up, the International Cooperation Strategy.