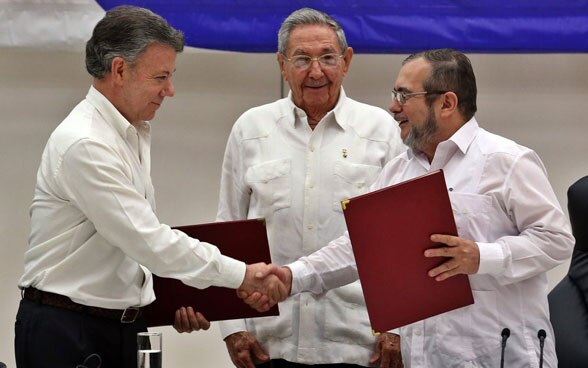 Mediation is part of Switzerland's good offices and is one of the country's foreign policy priorities. Switzerland may be requested to act as a mediator by conflicting parties themselves, or may offer its mediation services. It acts as a mediator itself or offer support to negotiating parties and to mediation efforts of others. Switzerland also seeks to promote the professionalisation of mediation in collaboration with the international community.
Switzerland is a globally renowned and sought-after partner as a mediator in peace negotiations and in supporting mediation and peace processes. In recent years it has accompanied over 30 peace processes in more than 20 countries. Switzerland is increasingly deploying experts to international organisations such as the UN and the Organization for Security and Co-operation in Europe (OSCE), to mediate in conflicts on behalf of the organisation.
With the agreement of the parties in conflict, Switzerland creates a space for negotiations – it does not take sides or influence the agenda. It helps the parties to identify the root causes, formulate their concerns and work out solutions.
Mediation as part of Switzerland's good offices (PDF, 182.4 kB, English)
There are five different types of activities linked to mediation: