Protecting civilians in war
The most recent armed conflicts show once again how civilians in populated areas suffer from the effects of warfare. The use of highly explosive weapons is particularly devastating in this context, which is why Switzerland has endorsed a political declaration on this matter. The protection of civilians is also one of Switzerland's priorities during its 2023–24 term as a non-permanent member of the UN Security Council.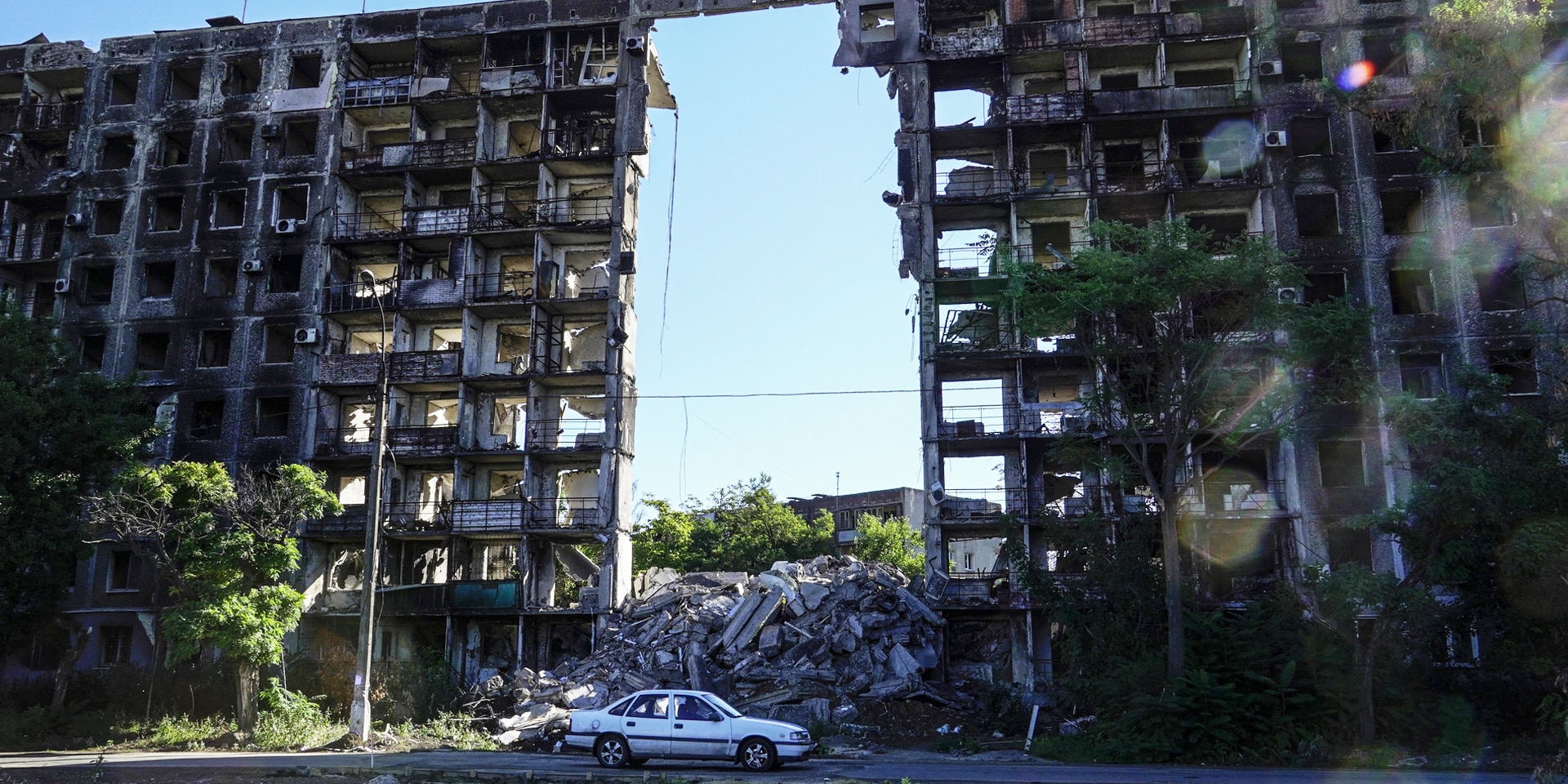 Russian missile fire in the Ukrainian city of Mariupol destroyed many civilian housing complexes. © Keystone
"Thirty civilians killed by missiles." We have been hearing news like this from Ukraine for months. There, but also in other war zones such as Yemen and Syria, the civilian population suffers when fighting takes place in cities. Often, weapons are used there that were originally designed for open battlefields. When these weapons are used in populated areas, the direct and indirect impact on people is devastating. Highly explosive and/or low-precision weapons deployed in populated areas often kill and injure a great number of people, especially civilians.
Explosive weapons also destroy critical infrastructure in populated areas, including power and water supply systems. Their collapse can disrupt other services, such as medical care and education, often for a long time. Attacks with explosive weapons thus inflict suffering far beyond the area they hit and can ultimately force people to flee their homes.
It is important to address the devastating and long-lasting consequences for civilians when explosive weapons are used in populated areas.
Ambassador Simon Geissbühler, Peace and Human Rights Division
A political declaration for better protection
The international community has for many years now been grappling with the question of how to better protect civilians in cities from explosive weapons. In 2019, Ireland launched a process to draft a political declaration aimed at improving the implementation of international humanitarian law. Switzerland played an active role in the negotiations, helping to ensure that the declaration would contain specific measures while still obtaining support from major military powers such as France and the United States. While the declaration is not legally binding, the states adopting it do agree to review and, if necessary, adapt their military policies and practices. In addition, best practice is to be developed and shared at regular expert meetings to better protect civilians from explosive weapons. Switzerland supports this political declaration and, through a delegation led by Simon Geissbühler, head of the Peace and Human Rights Division, took part in the ceremony at which it was adopted on 18 November 2022 in Dublin.
A sustained commitment to the protection of civilians
In keeping with its humanitarian tradition and obligations under international humanitarian law, Switzerland is committed to protecting civilians as part of its foreign policy. For example, Switzerland has been heading the 27-state UN Group of Friends of the Protection of Civilians in New York since 2007. This group provides critical analysis and constructive feedback to the UN Security Council regarding these concerns. Switzerland coordinates the group's work and participates on its behalf in the relevant open debates of the Security Council. Protecting civilians is also one of Switzerland's four priorities for its 2023–24 Security Council term. This priority will focus among other things on strengthening the respect for international humanitarian law by all parties to a conflict, on the protection of children in armed conflicts and the search for missing persons.
Switzerland sets a good example
Switzerland's commitment to improving the implementation of international humanitarian law is not limited to efforts at international level. In the Swiss Armed Forces, too, compliance with international humanitarian law and the protection of civilians are consistently integrated into training programmes. For example, all members of the military must take a basic course in international humanitarian law. Here, the Swiss Armed Forces uses various practical tools, including an e-learning programme. Senior officers also complete in-depth training in operational law. Lastly, all major units (brigades and divisions) have a staff office legal adviser.
Protecting civilians: a Swiss priority for the UN Security Council
On 31 August 2022, the Federal Council adopted four thematic priorities for Switzerland's 2023–24 Security Council term:
Building sustainable peace
Protecting civilians 
Addressing climate security 
Enhancing effectiveness 
Switzerland's non-permanent seat on the UN Security Council is the logical extension of its commitment to peace and security worldwide. The Federal Council submitted Switzerland's candidature in 2011 following extensive consultations with Parliament. The Federal Constitution states that Switzerland shall promote the peaceful coexistence of peoples and help to build a just international order. This is also the stated goal of the UN Security Council. It is also vitally important for a country that is as integrated into the global economy and as dependent on stability and clear international rules as Switzerland is. Peace and stability are essential for prosperity and development. On 9 June 2022, the UN General Assembly elected Switzerland as a non-permanent member of the UN Security Council for a two-year period from 1 January 2023 to 31 December 2024.