"Everyone is on edge": Swiss emergency and reconstruction aid in Nepal after the earthquake of April 2015
On 25 April 2015, a powerful earthquake damaged or destroyed hundreds of thousands of buildings, healthcare facilities, roads and bridges in Nepal. It also claimed the lives of around 9,000 people. Switzerland, which has maintained an active presence in Nepal for decades, responded immediately to the disaster by providing emergency aid and has since been supporting reconstruction efforts. The work in Nepal serves as an example of successful interaction between various types of support provided by Switzerland and, more specifically, by the Swiss Agency for Development and Cooperation (SDC).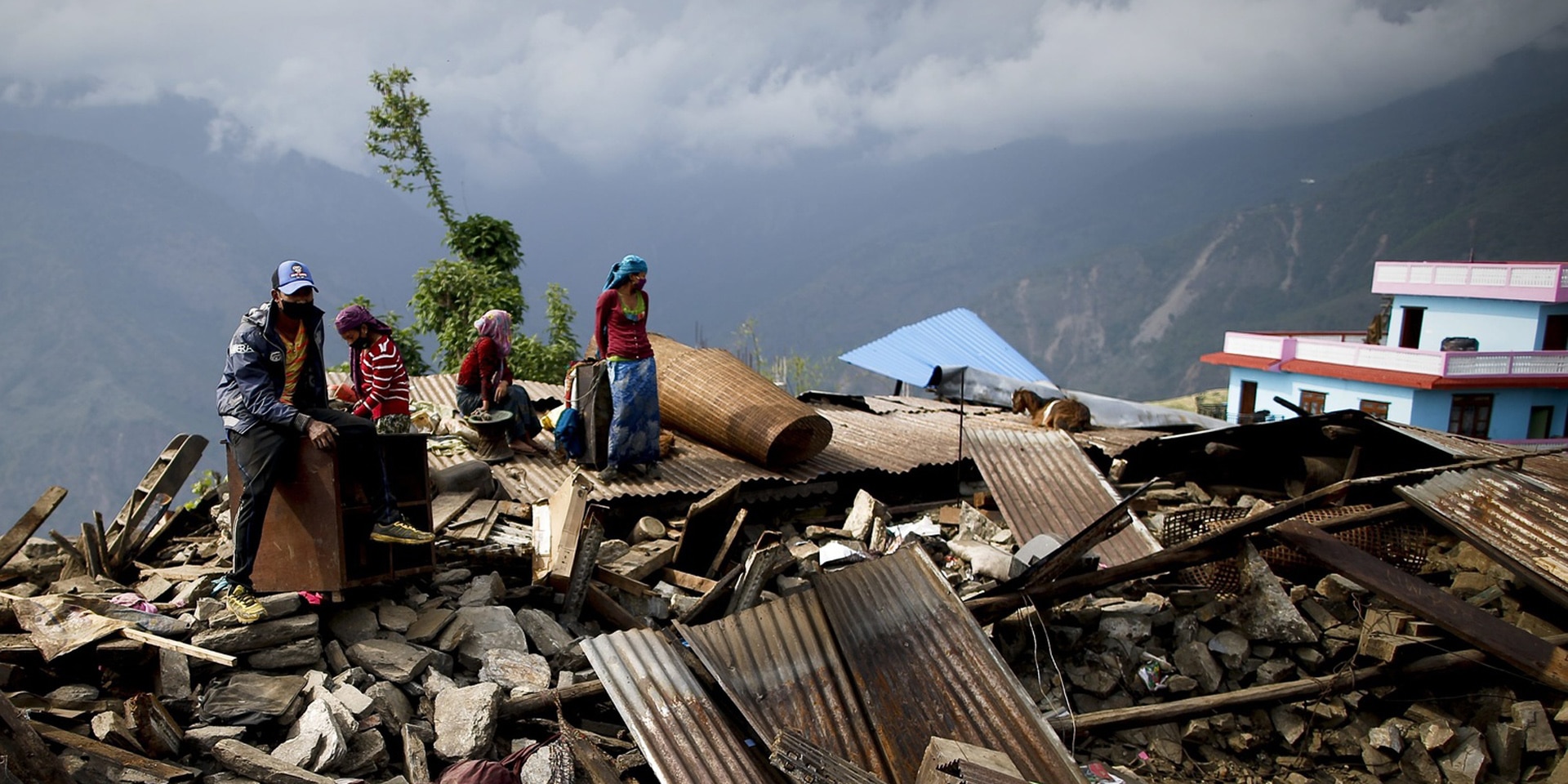 A family returns to their flattened home to salvage what they can after the earthquake. © Keystone
At 11.56am on Saturday 25 April 2015, a 7.8 magnitude earthquake hit Nepal, flattening houses and tearing up roads. The death toll stood at 1,450 directly after the earthquake, eventually rising to just under 9,000. Hospitals were unable to cope with the influx of patients. Anxiety and fear of aftershocks spread across the country.
Along with many other countries, Switzerland was quick to come to Nepal's aid. Members of the Swiss Humanitarian Aid Unit (SHA), sent to Nepal in the immediate aftermath of the earthquake, worked with the Swiss embassy in Kathmandu to provide emergency aid. The embassy and the Swiss cooperation office in Kathmandu also initiated the post-earthquake reconstruction projects. Thanks to Switzerland's strong network and long-standing presence in Nepal, it was possible to get aid swiftly to those in need.
Ueli Salzmann headed the SHA's first rapid response team in Nepal following the earthquake. He was one of the first to arrive in Kathmandu from Switzerland and now looks back on the first few days.
A typical spring day
25 April 2015 was a typical spring day. The sky was slightly overcast, with the sun putting in an occasional appearance. I was at a drinks reception in Bern. My name is Ueli Salzmann and I am an architect by profession. Since 1994 I have been a member of the Swiss Humanitarian Aid Unit (SHA). Over the years I have carried out more than 150 operations in reconstruction programmes and other humanitarian projects.
The SHA is made up of some 700 members on constant standby in addition to their own jobs. During and after a conflict or disaster, we offer support in various fields of expertise to the people affected. In my case, because of my professional background, support is in the construction sector in the field. Amid canapés and conversation, my phone rang. Dieter Loosli, Swiss Humanitarian Aid's operations planner at head office in Bern, was calling to tell me about the situation in Nepal following an earthquake. The operations management was to meet on Sunday morning in the Swiss Humanitarian Aid's premises in Effingerstrasse. I agreed to be there.
Taking off into the unknown
Everything happened so fast. At 9am on the morning of 26 April it was obvious that I would be leading the rapid response team in Nepal. The aim of the operation was to assess the humanitarian situation in the field and to start immediate action to help the affected population. I rang my family and colleagues to inform them that I would be away for the next few weeks. I packed a bag and said goodbye to my family. That same day, on Sunday afternoon, a REGA jet took off from Zurich with me and my team heading for Kathmandu.
As we approached the capital of Nepal, first signs of the damage could already be seen at the airport, closed to private traffic due to the earthquake. On leaving the aircraft we were greeted by rainy, rather cool weather for April in Nepal, which is usually warm before the monsoon. Employees from the Swiss embassy came to meet us. I was surprised by the little damage I saw on the way to the embassy. Appearances turned out to be deceptive, however.
The Swiss embassy is housed in a historic building. As it was in danger of collapsing, we were only able to enter with the utmost caution. Together with the embassy employees, we made ourselves at home in the representation's garden. We worked and slept in the tents under the open sky. As members of the SHA,
The first to arrive
By the morning of Monday 27 April I was beginning to feel the effects of jet lag and the long trip. A hot cup of coffee chased away the tiredness instantly. We had an enormous amount of work to do. My task as head of the rapid response team was to coordinate the SHA's activities with other aid organisations in the field and with the operations management in Bern.
Our first investigations took us to the town of Gorkha, west of Kathmandu where the true extent of the destruction was becoming increasingly visible. The epicentre of the earthquake was less than six kilometres away and practically the whole town was reduced to rubble and covered in ash. The SHA was the first aid organisation to arrive and we decided to start helping there. We were particularly concerned about the medical facilities. Gorkha hospital serves over 250,000 people and we did all we could to get it up and running again.
6 May 2015: The last ten days were spent bringing medical equipment and a team of doctors to the hospital. Patients could be treated and operated on again and babies could be born in hospital. But Swiss humanitarian aid goes beyond medical assistance. As part of our emergency aid, relief supplies were distributed to the Nepalese population: These included tarpaulins to erect temporary accommodation, ropes, kitchen utensils, sleeping mats, jerrycans and tools. This was no easy task. Blocked roads and increasing numbers of landslides hampered the distribution of relief supplies. Outside of Kathmandu, this distribution was only possible by air or by porters.
Our on-site evaluations showed that in many places the earthquake had obstructed access to clean water. The spread of infectious diseases such as cholera had to be prevented. We provided Nepal with 50 water purification appliances that could produce 200,000 litres of clean water per hour, covering the daily needs of 15,000 people. 
Starting to build the future
Humanitarian operations are always an enormous challenge for all involved. Everyone is on edge. We have to meet the expectations of the people we are helping as well as satisfying those of Switzerland and our own.
After the intense organisation of such operations, if we begin to see that our help is reaching people, the tension and pressure suddenly fall away and the team can start to breathe easily again. This moment of relief also came in Nepal, a moment when the future could begin again and I felt that our operation had been worthwhile.
The moment that the Nepalese began to rebuild their own four walls with the material we had given them, I personally felt that they could start to rebuild their lives.
Ueli Salzmann, head of the first SHA rapid response team to arrive in Nepal
After two weeks' hard work and unforgettable impressions, I flew back to Switzerland on Friday 8 May 2015. I was looking forward to seeing my family again. The following Saturday I ran in Bern's Grand Prix with a team from the SDC. It seemed an appropriate way to round off the operation and was also a first step back to normality.
Reconstruction assistance
In providing emergency assistance, Switzerland is responding to people's immediate needs in a disaster-hit region. Emergency aid has shifted to reconstruction assistance with a view to delivering lasting and sustainable support. Reconstruction assistance has been implemented by Swiss representations on the ground. The baseline figures relating to the SDC's rebuilding work are shown below:
The earthquake severely damaged or demolished some 760,000 houses, 30,000 classrooms, 1,000 healthcare facilities and hundreds of historical and cultural sites. A total of 3.2 million people were left temporarily homeless. The total loss and damage caused by the earthquake and its aftershocks is estimated at CHF 7.7 billion. Rebuilding got under way quickly as the SDC has a strong network in Nepal, having maintained a presence there since the 1960s. The SDC prioritised its reconstruction assistance as follows:
Rebuilding infrastructure
Erecting earthquake-resistant buildings
Ensuring access to vital resources
The assessments conducted by Swiss experts established that homes in rural and mountain regions were much harder hit, as they were poorly built, by comparison with city dwellings, and not designed to withstand earthquakes. Switzerland therefore focused its reconstruction efforts on these areas.
As of 2020, much has been achieved: Switzerland has, for example, provided psychosocial support for people who suffered trauma from the earthquake. Some 29,000 households received seeds, 30,000 emergency shelters were provided and 10,000 women received personal hygiene kits. These measures have helped people in Nepal to regain access to food, education, healthcare and local markets.
SDC projects in Nepal after the earthquake
Building the builders
As a part of the Employment Fund program around 12'000 people received mason training in earthquake resilient technology. 954 houses were built during the training course while 3,359 were built after the training using the technology. In addition, 11, 000 households received technical engineering guidance to build earthquake resilient houses in Ramechhap, Khotang and Okhaldhunga. These trainees were also engaged in other construction work, which also helped in creating jobs for them.
This house is stronger and resilient than older houses since it is built with tie beams. I don't think this one will collapse in case of an earthquake.
Dilli Gubaju
Restoring lifelines
SDC supported in the reconstruction of all 78 trail bridges that were damaged in the Earthquake in 16 districts. This has allowed for more than 200,000 people to restore their lifelines. On an average more than 11'500 people cross these bridges every day.
I use the trail bridge to take my mother suffering from cancer for treatment to the hospital. Without the bridge, I would have to carry her. The bridge has made our life easier.
Bhakta Bahadur Budhathoki
Roads to prosperity
The Post Disaster Need Assessment reported that 4,400 kilometer of local roads were damaged mainly due to landslides triggered by the earthquake. The heavy monsoon that followed further deteriorated the roads due to soil erosion. Through SDC's technical assistance and Asian Development Bank's financial support 310kms of local roads were rebuilt where 13'000 workers found employment.
Sustaining local economy through tourism
Extensive landslides after the earthquake damaged many local trails that were lifelines for people in the remote villages. Tsho-Rolpa trail, a famous tourist destination in Dolakha and the main source of livelihood for people there. People are directly dependent on the operation of the trekking route for their livelihood. As a part of Swiss contribution to earthquake rehabilitation work, this trail is now completed and opened for domestic and international tourists in the area benefiting local people from tourism activities.
Many locals received employment during the reconstruction of the trail road. People with weak economic condition could pay off their loans while some were able to rebuild their homes damaged by the earthquake.
Guru Rimpoche, Beding Gumba
Switzerland's humanitarian commitment
Switzerland's foreign policy strategy for 2020-23 attributes huge importance to humanitarian aid. Switzerland's good reputation in the international arena is largely due to its humanitarian tradition. For this reason, it is in Switzerland's interests to maintain this tradition. Switzerland undertakes aid missions with solidarity and fairness, prioritising the needs of the victims of crisis and disaster. Humanitarian aid is intrinsically linked to compliance with international humanitarian law, international refugee law and humanitarian principles. International Geneva acts as Switzerland's interface between the United Nations, the International Red Cross and NGOs. It offers Switzerlanda unique opportunity to further develop its humanitarian tradition and to engage in international dialogue. Switzerland is making good use of this opportunity.
Switzerland's International Cooperation Strategy 2021–24, which is driven by the FDFA's Foreign Policy Strategy, seeks to increase interaction between humanitarian aid and development cooperation. More extensive development cooperation may considered for protracted crises. This frees up humanitarian resources for emergency assistance in response to disasters or crises. The 'triple nexus' approach to humanitarian, development and peacebuilding work creates synergies that enhance the ability of countries and populations to manage crises, conflicts or disasters more effectively.
Switzerland's 2028 Foreign Policy Vision (AVIS28) also concludes that Switzerland's intrinsic values, such as humanitarian tradition, will continue to be a pillar of its foreign policy. In an era of increasing regular and irregular migration, humanitarian aid can play a stabilising role. Development cooperation and humanitarian aid must become more closely knit so that people can be freed from their dependence on emergency aid and states are increasingly equipped with their own structures to cope with crises or natural disasters.