The strong ties between Switzerland and Indonesia
On 2 November, Switzerland and Indonesia celebrate 70 years of diplomatic relations. Batik culture, an economic partnership agreement that came into force on 1 November, Swiss vocational education and training in Indonesia, traditional shadow theatre, gamelan music, a hand-made road and Swiss disaster relief – the stories behind an excellent partnership.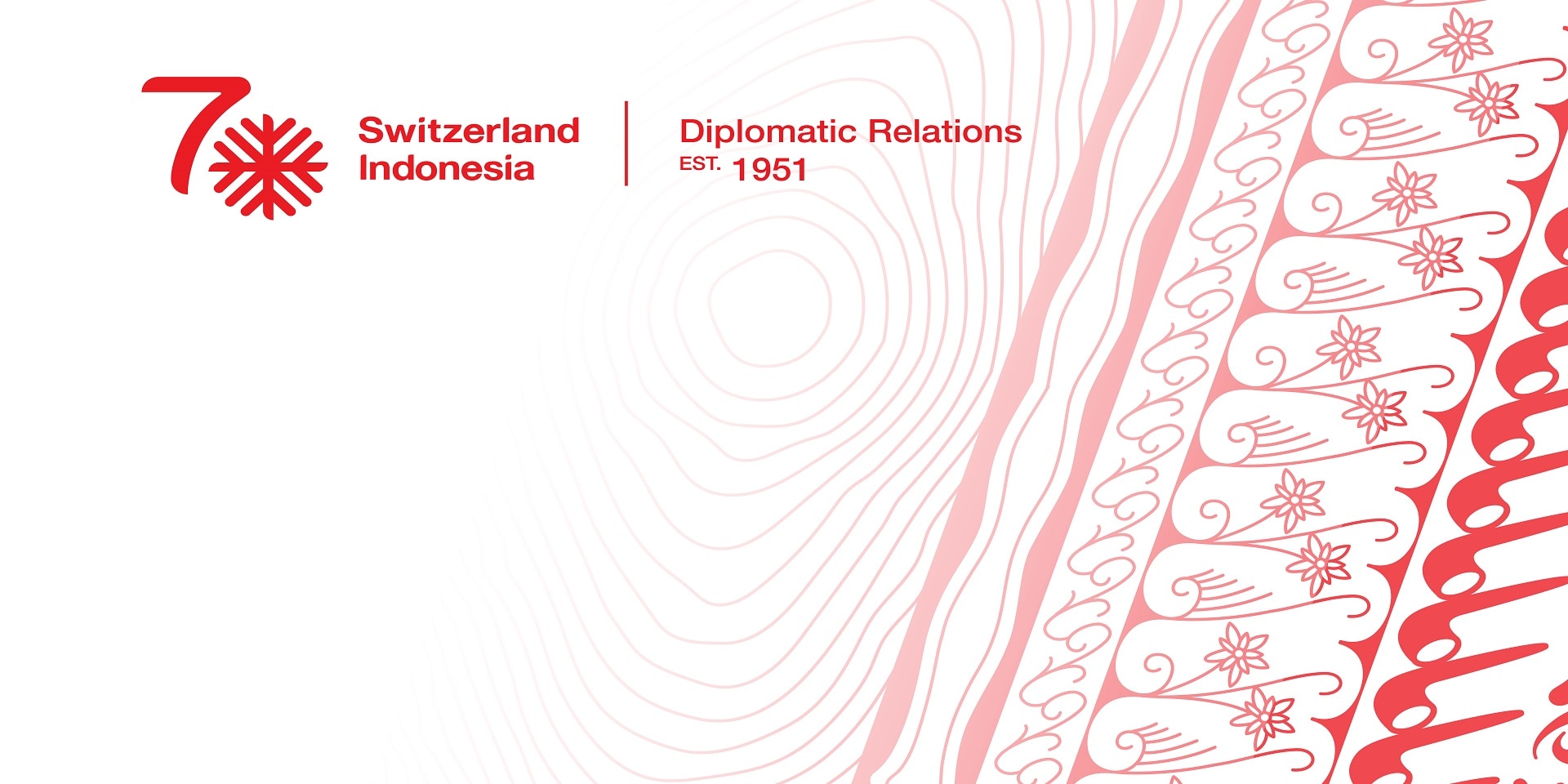 The logo on the occasion of 70 years of diplomatic relations combines Swiss and Indonesian symbols and stands as a symbol of the friendship between the two countries. © FDFA
Batik – the word may be derived from the phrase mbathik manah, which means "to draw with the whole heart". Batik is a textile design method using dye resistance, in which wax is applied to fabric. This technique is thousands of years old and an integral part of Indonesian culture. It has been added to UNESCO's Intangible Cultural Heritage of Humanity list. The patterns have changed over time and also vary from region to region. Many patterns carry special meaning and are worn at public events in Indonesia. It is therefore no surprise that the patterns have also been incorporated into the logo celebrating 70 years of Swiss–Indonesian diplomatic relations. The logo as a whole, which also includes other symbols, stands for the long-standing friendship between Switzerland and Indonesia.
Culture facts and figures
In 2019, the Swiss embassy organised a Swiss batik design competition which involved Indonesian designers creating 10 batik patterns with Swiss motifs.
The Swiss embassy held the award ceremony, followed by a fashion show, on the day before the anniversary of UNESCO's designation of batik as one of the Masterpieces of Oral and Intangible Heritage of Humanity.
One of the prizewinning designs was incorporated in the logo marking 70 years of Swiss–Indonesian diplomatic relations.
Indonesian student Puspita Ayu Permatasari developed the iwareBatik app at the University of Lugano, which recognises batik patterns and provides background information on them.
First free economic partnership agreement with European countries
The economic partnership agreement between Indonesia and the EFTA states (Switzerland, Lichtenstein, Iceland and Norway) came into force on 1 November 2021. The agreement provides better market access and achieves greater legal certainty for trade in goods and services. Indonesia is Southeast Asia's largest economy and the world's fourth most populous country, with a burgeoning middle class. In 2020, Indonesia ranked fifth among Switzerland's trading partners in Southeast Asia. The agreement now in force offers Swiss businesses and other stakeholders huge potential to boost economic and trade relations with Indonesia.
Business facts and figures
The Swiss Business Hub in Jakarta was established in 2017 and the Swiss–Indonesian Chamber of Commerce (SwissCham) in 2018.
Following a transitional period, customs duties will cease to apply for 98% of goods exported from Switzerland.
The EFTA states are the first European countries to enter into an economic partnership agreement with Indonesia. 
A milestone for vocational education and training
The Swiss vocational education and training scheme delivers effective training to skilled workers who are in short supply in the labour market. It is therefore one of Switzerland's most successful exports. As far back as 1973, Switzerland and Indonesia worked together in setting up the Polyteknik Mekanik Swiss – an upper-secondary level vocational school. Switzerland provided the expertise, teaching materials and machinery, while Indonesia constructed the school premises and financed operations. The polytechnic was the first of its kind in Indonesia and has been a huge success: there are now over 240 polytechnics across the country. Today, Switzerland supports a number of schools in Indonesia, including the Lombok Tourism Polytechnic. Vocational education and training, tourism and financial management are also priority areas under SECO's Cooperation Programme for Indonesia 2021–24, which was launched earlier this year.
Economic cooperation and development facts and figures: vocational education and training
SECO's Indonesia Cooperation Programme 2021–24  aims to develop effective public sector entities and a competitive private sector, with a special focus on SMEs.
Swiss–Indonesian development cooperation goes back to the 1960s.
Indonesia was a priority country for the SDC between 1976 and 1996, where it undertook work in relation to human development, urban planning and infrastructure development.
Stories about life and the world
Arumbi has fairly coarse facial features but is good tempered. Coarse facial features normally denote that someone is bad-tempered. The appearances of the puppets in wayang kulit (Javanese shadow puppet theatre), define their character. Each filigree figure has a name, character and backstory. The puppets are operated by a dalang, or puppet master, who tells the stories that frequently interweave ancient myths with current events.The Museum Rietberg in Zurich has a large number of puppets in its collection, which formed part of an exhibition in 2020. A wayang kulit performance can last up to 8 hours. Shadow plays are accompanied by a gamelan orchestra made up of gongs, metallophones and other instruments. A gamelan orchestra also exists in Switzerland: The '123-Musiques' school in Sion maintains this youth orchestra and also offers the opportunity to learn how to play these versatile instruments. 
Art facts and figures
Indonesia currently boasts over 2,000 shadow puppeteers.
At the Museum Rietberg exhibition, puppets provided by the Zurich Ethnographic Museum and a private donor were displayed for the first time.
Each performance is unique, as a lot of improvisation is required to incorporate current events into the shadow play.
A gamelan orchestra is made up of 22 to 25 musicians.
The 123 Musiques gamelan youth orchestra has been performing to great acclaim in Switzerland and abroad since 2009.
Supplies to help end the COVID-19 pandemic
The Swiss plane landed at Jakarta airport on the morning of 25 July 2021 and was met by the Swiss ambassador to Indonesia and the Indonesian Minister of Health. The plane was carrying over 600 oxygen concentrators as well as personal protective equipment which is urgently needed in Indonesian hospitals. The humanitarian aid delivered by Switzerland was in response to a request from the Indonesian authorities for assistance in dealing with the COVID-19 pandemic. Switzerland will continue to stand by Indonesia in future, as it has done in the past, for example following the Central Sulawesi earthquake in 2018 or the tsunami that hit Aceh in 2014. 
Humanitarian aid facts and figures
In July 2021, Switzerland delivered some CHF 1 million in supplies to help Indonesia in tackling the pandemic.
The plane flying in the medical supplies was also the first Swiss aircraft in years to land at Soekarno-Hatta International Airport following a direct flight.
Following the 2018 earthquake in Central Sulawesi, Switzerland delivered 30 tonnes of relief supplies to the Palu and Dongale region, including 300 tents and water treatment plants.
A hand-made road
Building a road by hand provides employment for as many people as possible. In Indonesia in the 1980s, there were population centres in the interior of the country that could not be accessed by road. At best, there was a muddy track that became increasingly impassable when the monsoon came. However, there can scarcely be any development without infrastructure. Roads were needed that could withstand the heavy rainfall. It was a Swiss who came up with the idea of basically copying the Romans, given that their roads have lasted for two thousand years and were constructed without diggers. This is how the Swiss-funded Roman road came about. The project provided work for hundreds of people and the road, which was completed in stages over the years, has facilitated development. Switzerland is still supporting Indonesia's infrastructure by promoting high-speed bus services, especially in congested urban areas. 
Economic cooperation and development facts and figures: urban mobility
Mobility presents a challenge in Indonesia's big cities, not least because of the country's poorly developed public transport services.
Developing transport infrastructure is a particular focus of SECO's cooperation programme for the 2021–24 period.
The Swiss-backed INDOBUS project, promotes the use of a high-speed public bus service in the Indonesian cities of Bandung, Batam, Makassar, Pekanbaru and Semarang.