Looking back on a successful year for foreign policy
At the beginning of every year, the Federal Council publishes the foreign policy report, in which it summarises and reviews the key foreign policy events of the past 12 months. 2019 saw polarising movements like Fridays for Future and the mass protests in Hong Kong, while the rivalry between major global players such as the United States, China and Russia intensified. How was Switzerland able to assert itself against this backdrop?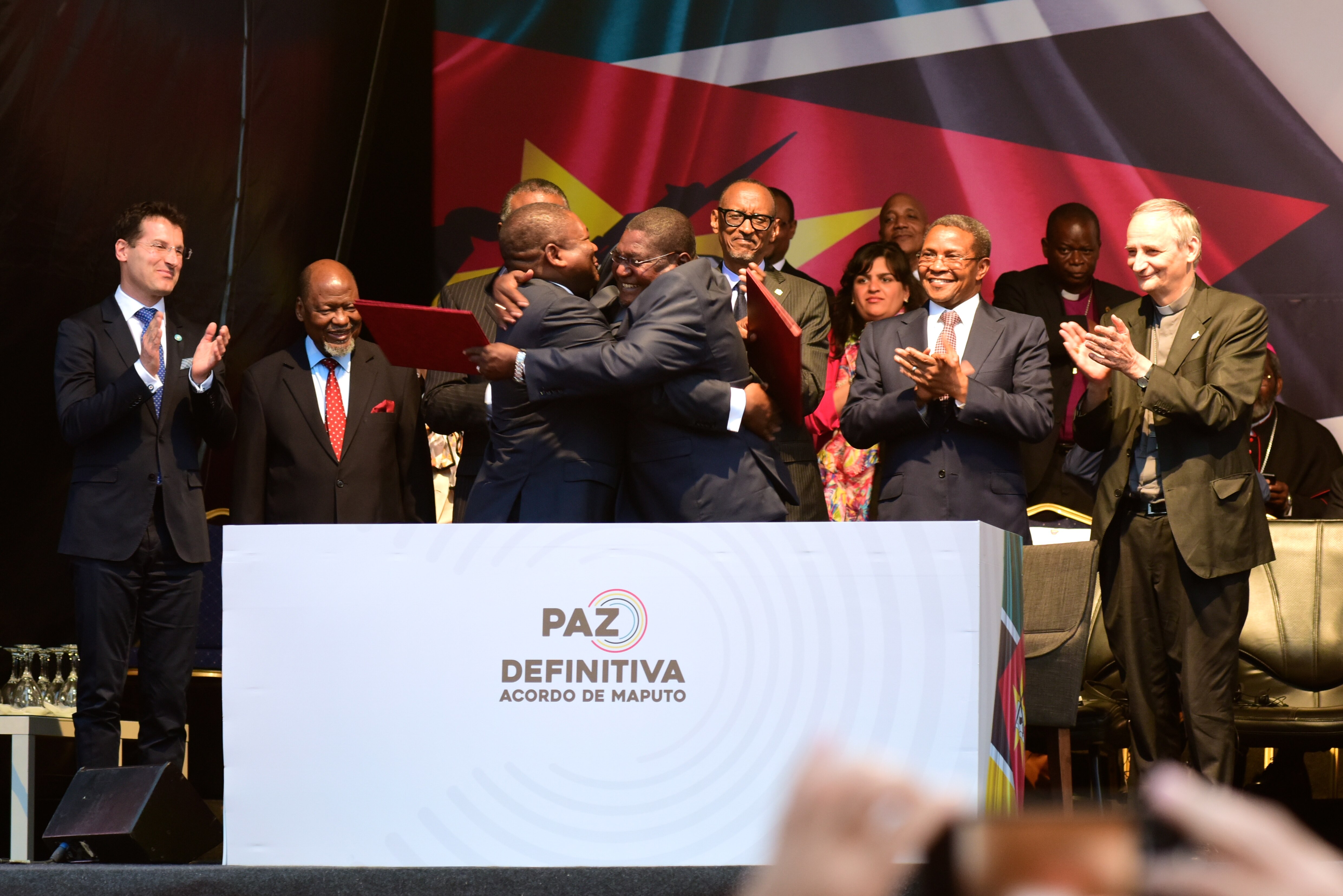 Good offices: the Swiss ambassador standing in the front row at the ceremony to mark the signing of a Swiss-brokered peace accord in Mozambique. © FDFA
The Federal Council takes a positive view of its foreign policy achievements in 2019. It maintained contact with many states at the highest political level, was in demand for its good offices, made an important mark in science diplomacy and through International Geneva, and was able to further dovetail its foreign and domestic policies. The report highlights how the Federal Council aims to anchor its foreign policy more firmly in domestic policy than it has in the past. In addition to involving Parliament, the cantons and other Swiss actors in its work, the FDFA organised roundtable discussions with the public in 16 cantons (Meet the Ambassadors) – again with the aim of delivering a citizen-oriented foreign policy.
Switzerland achieved good results overall in the implementation of its 2016–2019 foreign policy strategy.
Federal Council/2019 Foreign Policy Report
Four priorities in 2019
2019 was a busy year for the FDFA. Some of the items on the agenda included Switzerland's relations with the EU, strengthening the country's role in the international arena, responding to the high demand for Swiss expertise in peace and security, and contributing to prosperity and sustainability.
Relations with the European Union
Europe is in key respects central to Switzerland's prosperity and the EU is Switzerland's most important economic partner by far. This is why stable and close relations with the EU that can also be further developed are important to the Federal Council. In 2019 the Federal Council held consultations on a draft Institutional Agreement with the most important stakeholders. The Federal Council considered the outcome of these discussions to be positive on the whole. However, before the Institutional Agreement can be signed, the following three points need to be clarified:
Wage protection
State subsidies
Citizens' Rights Directive
In relation to these points, the Federal Council is working with the cantons and social partners on solution proposals with broad-based domestic support, which will serve as a basis for subsequent talks with the EU.
As a neutral and independent country, Switzerland maintains good relations with all states. This includes both the smaller states and the international heavyweights. Switzerland aims to consolidate its good relations, safeguard its interests and work with its global partners to address and resolve concrete problems.
Read more
It continued to do so in 2019 at many meetings with representatives of other states. In particular, relations were strengthened with Brazil, China, India, Japan, Russia, South Africa, Turkey and the United States. Good relations with these eight countries are crucial for Switzerland as they have a significant influence on regional and international developments. For example, Indian President Ram Nath Kovind paid a state visit to Switzerland in 2019, while then President of the Confederation Ueli Maurer met with US President Donald Trump for talks, and travelled to Moscow to meet with Russian President Vladimir Putin in the Kremlin. Federal Councillor Ignazio Cassis met with a number of key figures, including US Secretary of State Mike Pompeo in Bellinzona.
The topics of human rights and the rule of law are crucial to Switzerland's foreign policy. The country took a clear stand on these issues in its bilateral talks with China, Russia and Turkey.
Peace, security and International Geneva
On account of its neutrality and impartiality, Switzerland enjoys an outstanding reputation as a mediator throughout the world. It supports an average of 17 peace processes a year. For example, it played a key role in the peace process in Mozambique, which culminated in the signing of a peace accord in summer 2019.
Read more
"This peace accord is a cornerstone for stability in Mozambique and in the wider African region," said Federal Councillor Ignazio Cassis at the peace accord ceremony in Maputo on 7 August 2019. He went on to say that: "Switzerland has once again made a pivotal contribution through its good offices and neutrality, and especially its outstanding diplomatic professionals."
Geneva is a global centre of excellence for the issues of peace and security. The city is host to numerous international organisations and NGOs, and is a venue for peace talks. Switzerland was able to cement its role as a host state in 2019 and as a result, become more interconnected. This networking has also facilitated new forms of cooperation. One example is the Geneva Science and Diplomacy Anticipator (GSDA) foundation, which seeks solutions to the digital and technological challenges of the 21st century. The Federal Council set up the GSDA together with the City and the Canton of Geneva in February 2019.
Throughout 2019, Geneva marked the centenary of multilateralism: 100 years after the League of Nations was founded in the city, there was much discussion about the challenges and potential of multilateral cooperation – including with regard to new technologies.
Sustainable development and prosperity
Geleitet durch die Agenda 2030 der UNO setzt sich die Schweiz mit grossem Elan für eine Welt ohne Armut und eine nachhaltige Entwicklung ein. Gemäss der Untersuchung vom April 2019 des OECD-Entwicklungsausschusses ist die Schweiz eine starke und verlässliche Entwicklungspartnerin. Mit dem Multilateralismus als zentrales Arbeitsinstrument engagiert sich die Schweiz für die Lösung globaler Herausforderungen.
Read more
To take better account of the UN's Sustainable Development Goals in future, the Federal Council set up a steering committee in 2019 with two delegates, which will steer and coordinate efforts to implement the 2030 Agenda in Switzerland and abroad.
Between May and August 2019, a public consultation was held for the first time on Switzerland's international cooperation for the period 2021–24. The 249 responses resulted in a fruitful discussion about the future of humanitarian aid, development cooperation and the promotion of peace and human security. In early 2020, the Federal Council will decide on its international cooperation strategy and submit the corresponding dispatch to Parliament.
Key focuses of Swiss development cooperation in 2019 included education, climate change and equal opportunities. Some 166 million people relied on humanitarian aid in 2019 due to crises, disasters and conflicts. Switzerland's commitment to the Syria crisis remained its largest humanitarian operation in 2019, with CHF 61 million invested in protection, education, water and conflict prevention.
A compass for foreign policy
Switzerland is closely interconnected with the rest of the world at all levels. Armed conflicts, economic sanctions and even climate change therefore have a tangible impact on the country's prosperity and security. Switzerland is best able to safeguard its interests and live up to its values if it plays an active part in world affairs. In this undertaking, a strategy is essential in order for Switzerland's foreign policy to achieve the greatest possible impact. The Federal Council therefore approved the Foreign Policy Strategy 2020–23, which prioritises peace and security, prosperity, sustainability, and digitalisation. It will serve as a compass for Switzerland's foreign policy in the next few years. The 2028 Foreign Policy Vision, which was drawn up by a group of experts on behalf of the FDFA, can also lend impetus to Switzerland's foreign policy. The experts looked at future trends and what effects they will have on people and society.