Celebrating 1 August differently together
This year's launch of Mission August 1st marks the first time the FDFA is celebrating Switzerland's national holiday online. At the heart of the project is a multilingual and interactive website to help the Swiss community abroad and Swiss enthusiasts around the world celebrate this day together.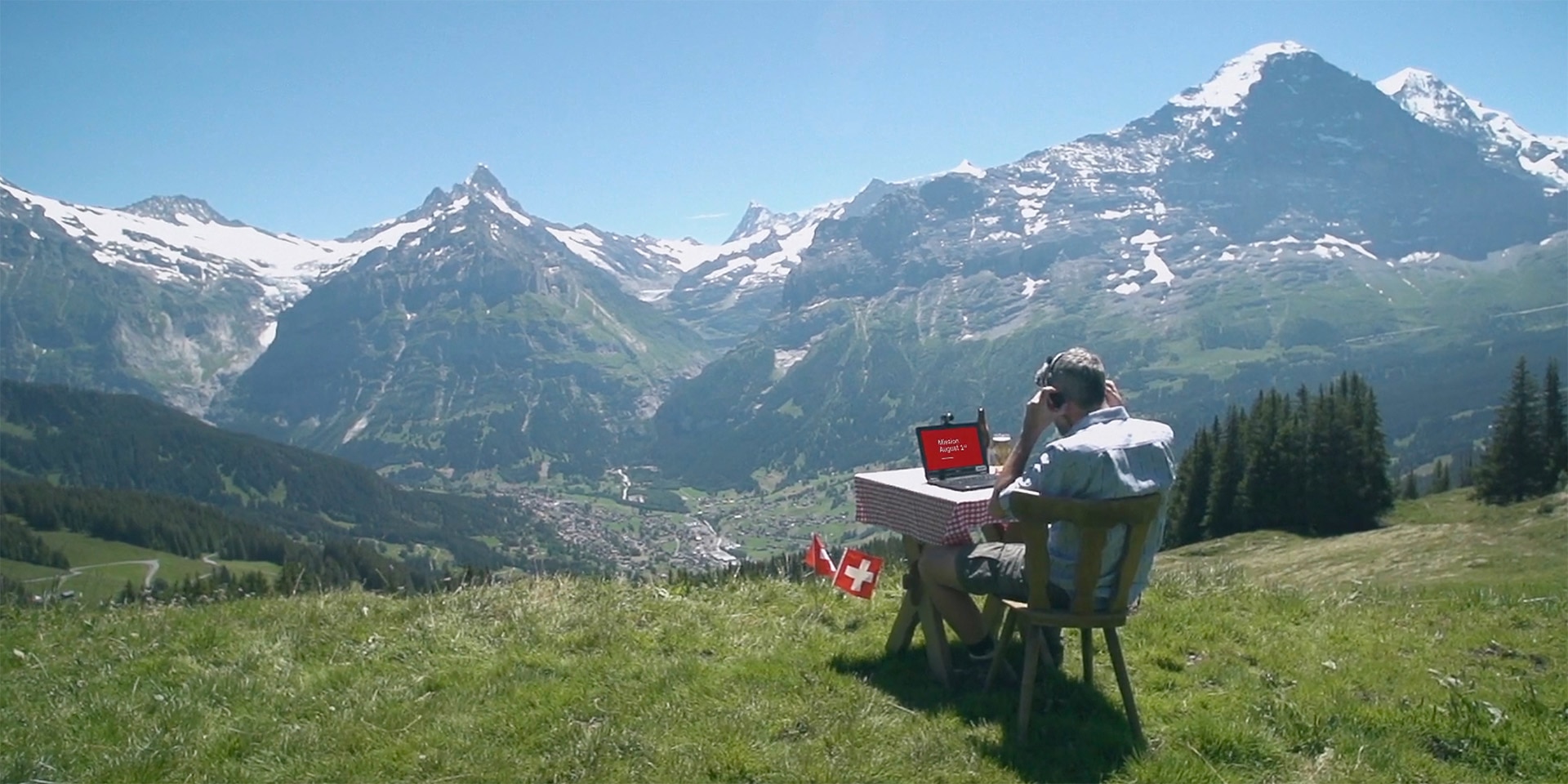 August 1st online: this virtual gathering is also possible in the Swiss Alps. © FDFA
This has been a year where more than ever before we have felt the importance of closeness, ties and solidarity, including online communities. The digital platform being launched by Presence Switzerland together with the Consular Directorate this 1 August makes effective use of the digital opportunities and promotion of new technologies at the FDFA, which is also one of the priorities of Federal Councillor Ignazio Cassis, the head of the department. From 27 July, this virtual meeting point will be bursting with ideas and inspiration to help you create your very own 1 August celebration, ranging from traditional recipes, decorations, quizzes and Swiss music playlists to video tutorials for activities like yodelling and flag throwing. Participants are encouraged to get actively involved in celebrating 1 August and share their photos and comments with the rest of the community.
Statement of Swiss Foreign Minister Ignazio Cassis
The platform will contain a number of speeches, including one from Mr Cassis addressed to the Swiss community abroad and Swiss enthusiasts around the globe. Swiss ambassadors working in different parts of the world will also post their video messages on the website.
On 1 August itself, the speech by the President of the Confederation and the celebrations from the Rütli will be live-streamed.
This global campaign under Switzerland's communication abroad was developed at head office in order to complement traditional 1 August festivities for the FDFA's external network – during this special year as well as in the future. By providing an engaging platform to mark the country's national holiday, Mission August 1st aims to proactively share Swiss traditions and customs, and foster a positive image of Switzerland. The Organisation of the Swiss Abroad (OSA) and Swiss schools worldwide are also supporting and making use of this 1 August initiative.