The 2030 Agenda in Switzerland: acting together to ensure a dignified life for all
Switzerland has made a political commitment to implement the 2030 Agenda for Sustainable Development, which establishes social, economic and environmental goals. All UN member states are called upon to regularly evaluate their progress and publish the results. In 2022 Switzerland will present its second voluntary comprehensive country report. FDFA IT and the FDFA State Secretariat developed a customised tool specially for the report.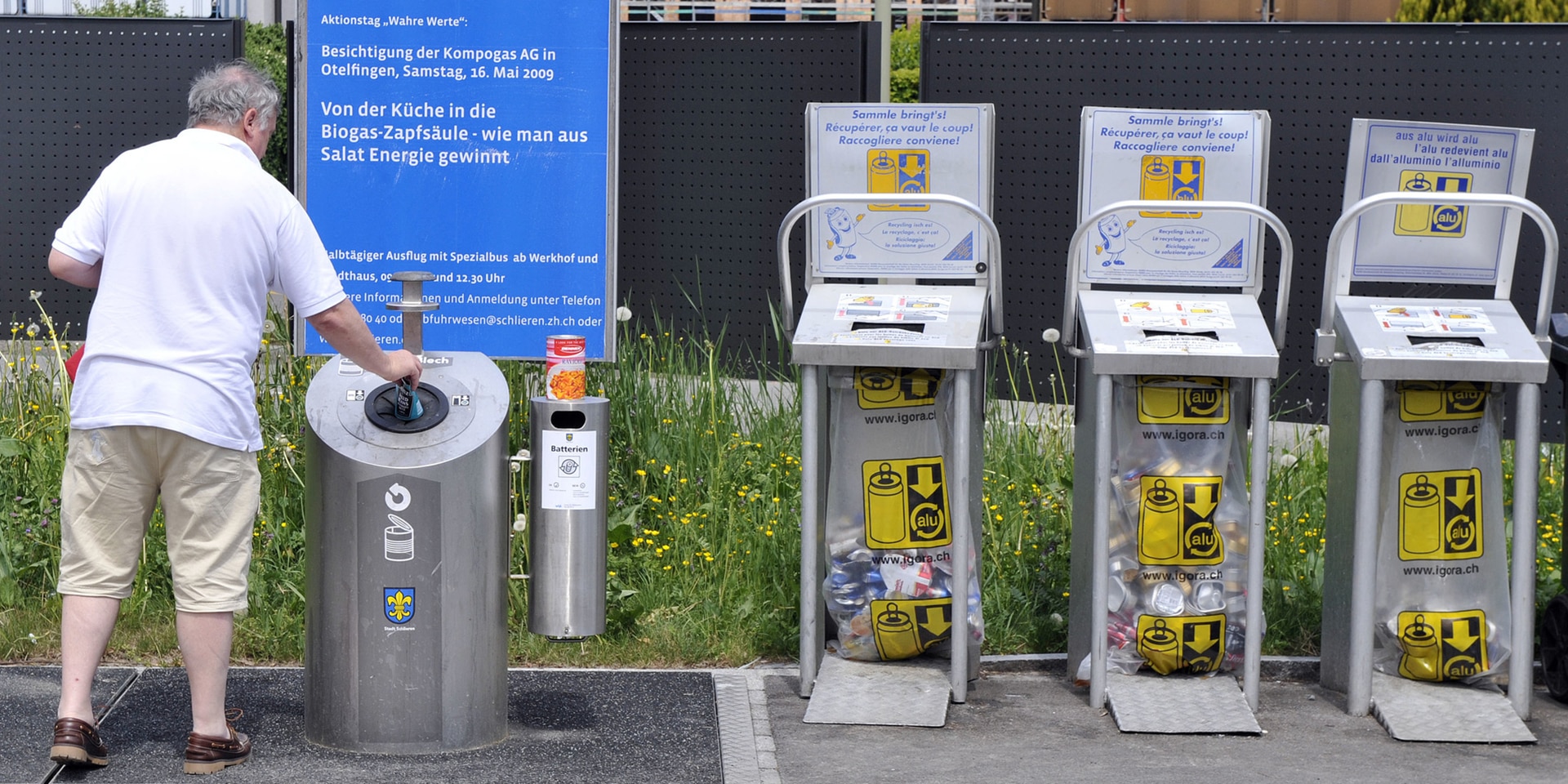 Switzerland has made a political commitment to implement the 2030 Agenda. One of the Agenda's goals is to lower environmental impact in areas such as waste disposal. © Keystone
Like all other UN member states, Switzerland has made a political commitment to implement the 2030 Agenda for Sustainable Development adopted by the UN in 2015. The centrepiece of the Agenda are the 17 Sustainable Development Goals (SDGs), which establish social, economic and environmental milestones to be achieved around the world by 2030.
The Federal Council is working both nationally and internationally to achieve the goals of the 2030 Agenda, and aims to do so in collaboration with the cantons and communes, as well as with stakeholders in business, civil society and the scientific community.
In practice, this means taking steps such as reducing CO2 emissions, promoting gender equality and closing material cycles. However, it is also about creating conditions in which public and private investment can effectively foster sustainable development.
Swiss contributions to achieving the 17 SDGs of the 2030 Agenda: Examples
Compensating for emissions
Companies and private individuals alike are striving to reduce their carbon footprint, primarily by cutting their emissions. Companies are investing in renewable energy, while private individuals are cutting back on their meat consumption. For emissions that are harder to reduce, there are a range of CO2 compensation services available that provide solutions to sectors, companies and even private individuals.
Making anti-corruption expertise available worldwide
The mission of the Basel Institute on Governance is to combat corruption. The competence centre, which is affiliated with the Universtiy of Basel, helps companies and governments around the world to fight abuses, advising them on how to improve their governance and promoting international cooperation to ensure stolen assets are recovered and returned. To this end, its experts train specialists in the affected countries and develop digital tools. The institute works with UN organisations, Interpol and the private sector as part of this process.

Promoting sustainable investment
Switzerland is a leading financial centre that manages a quarter of the world's crossborder assets. Investments that have a positive impact on the environment, society and governance are a key part of the transition to a sustainable economy.
Switzerland wishes to take responsibility in this respect. At the beginning of this year it pledged its support for the Task Force on Climate-Related Financial Disclosures (TCDF). This is an important step, as the TCDF's recommendations provide an international framework allowing companies to correctly calculate the costs of their climate risks. Through concrete measures such as these, as well as their implementation in international forums, Switzerland is sending a strong signal that it is a sustainable financial centre. 
All UN members produce regular reports
In a globalised world, international challenges such as migration, climate change, environmental destruction, poverty and hunger cannot be tackled by one state alone. All UN member states are encouraged to report regularly on how they are implementing the goals of the 2030 Agenda, as well as on the opportunities and challenges they are encountering along the way. They do this using the country reports.
Switzerland presented its first comprehensive country report at the 2018 High-level Political Forum on Sustainable Development in New York. At the time, it was one of the first countries to make such efforts to explain its implementation of the goals, as well as the challenges that remained to be tackled.
The second comprehensive country report is currently in progress and will be presented to the international community and the Swiss population in 2022.
Comprehensive country report 2022
Sustainable development is a task for society as a whole, and the goals of the 2030 Agenda concern many different areas of our lives. The 2022 country report is therefore based on a wide-ranging, participative foundation.
Experts from all departments of the Federal Administration and representatives from cantons and communes, as well as organisations from civil society, business and academia were therefore invited in spring and summer 2021 to submit contributions for the review process. The consultation phase lasted until the end of October 2021. 
A tailor-made IT tool
FDFA IT and the FDFA State Secretariat created their own digital tool to gather contributions. The tool will also make it possible to publish the contributions, which will appear on the 'SDGital2030' website starting in summer 2022. This should help to illustrate Switzerland's progress with regard to achieving the 17 SDGs of the 2030 Agenda and its 169 more specific targets. 
Interview with Claude-Alain Vannay, Head of FDFA IT, on the tailor-made IT tool 
Mr Vannay, what is innovative about the solution developed by FDFA IT? 
The review process for Switzerland's implementation of the 2030 Agenda is a complicated and specialised process. Hundreds of specialists and dozens of organisations are involved and provided us with input in a short timeframe.
This input then had to be recorded, coordinated and consolidated, and is difficult to manage using traditional means such as email or Excel tables. There was no standardised solution for tackling this challenge, so we had to analyse the process and work with our developers to produce a specific and user-friendly web tool.
What specific challenges had to be tackled? 
One thing we had to bear in mind was that the content from the review process consists mostly of text data. In IT jargon we call this "unstructured data". We wanted to structure this data, allowing it to be more effectively searched and analysed. There was no reference model for this structure, so we had to develop one as part of the project. 
The solution developed by FDFA IT simplifies the work of everyone involved and dramatically boosts efficiency.
What are the advantages of the tool?
Our tool simplifies the work of everyone involved – and because there are hundreds of people involved, this dramatically increases efficiency. In addition, the tool ensures complete transparency within the Federal Administration, as the contributions can be viewed at any time.
As a result, the FDFA can collect data more efficiently, and also make better use of resources. We are able to simplify coordination and continuously manage the vast amounts of information involved. 
Further information on the IT tool
Can you explain this improved efficiency in more detail?
The data from the review process is now available in a structured and reusable format. This makes searches more effective and allows the data to be presented in a more flexible and user-friendly manner. It also means this data can be used as a reference in future reviews.
How did you go about tackling this complex task?
Our approach to developing new solutions is based on agile methods. Using agile, iterative practices based on SCRUM allows us to work our way step-by-step towards a desired ideal. This approach makes complex challenges manageable.
We've interwoven our development and IT operational procedures more closely. To achieve this, we had to redesign our processes and our IT work tools based on the principles of DevOps, under which development and operations work hand in hand. The advantage of this is that we can deliver new versions of tools quickly, regularly and efficiently. 
Switzerland committed to actively evaluating goals
As a reliable partner in the international community, Switzerland has been active in supporting the 2030 Agenda. It plays an equally important role in the implementation of the Agenda, contributing on the multilateral, international and national levels.
From the beginning, Switzerland was closely involved in the drafting of the global sustainability goals. It also felt strongly that they should be implemented in a concrete manner, and supported the introduction of a review mechanism to ensure this. This mechanism comprises the voluntary country reports prepared within the context of the UN's High-level Political Forum on Sustainable Development (HLPF). 
The 2030 Agenda as a tool for shaping opinion 
The 2030 Agenda provides an important orientation framework, and is also a valuable compass for Switzerland. It is a means of shaping opinion, rather than a binding legal framework in the Swiss federal system. 
Sustainability should be implemented in a politically coherent manner – an important concept for Switzerland, too. The 2030 Agenda provides a frame of reference for identifying synergies between the various sectoral policies and solving conflicts of interest relating to sustainability. 
The goals of the 2030 Agenda are a key part of the Foreign Policy Strategy 2020–23, the International Cooperation Strategy 2021–24 and the 2030 Sustainable Development Strategy. By implementing the goals of these strategies, Switzerland is also advancing the goals of the 2030 Agenda. 
Sustainable development has a long tradition in Switzerland: it has been safeguarded via the strategies of the Federal Council since 1997, and has been a constitutional objective since 1999. It is present at all levels of national and international policy. 
No success without a paradigm shift
Switzerland will continue to support the review process for the 2030 Agenda for Sustainable Development in future. It is a key element in the strategic cycle for sustainable development – not least because the future of our planet is at stake.The implementation of the Agenda will require a paradigm shift in how the international community approaches global challenges and development problems.