7 stories from 70 years of Swiss-Chinese relations
Switzerland and China are celebrating 70 years of diplomatic relations. What began with a telegram on 17 January 1950 has grown into a close and multifaceted relationship. Switzerland continues to take a constructive shaping role in this partnership, addressing differences on an equal footing with China. What follows are seven stories on seven decades of lively relations covering partnership, diplomacy, economic affairs, science, culture, tourism and sport.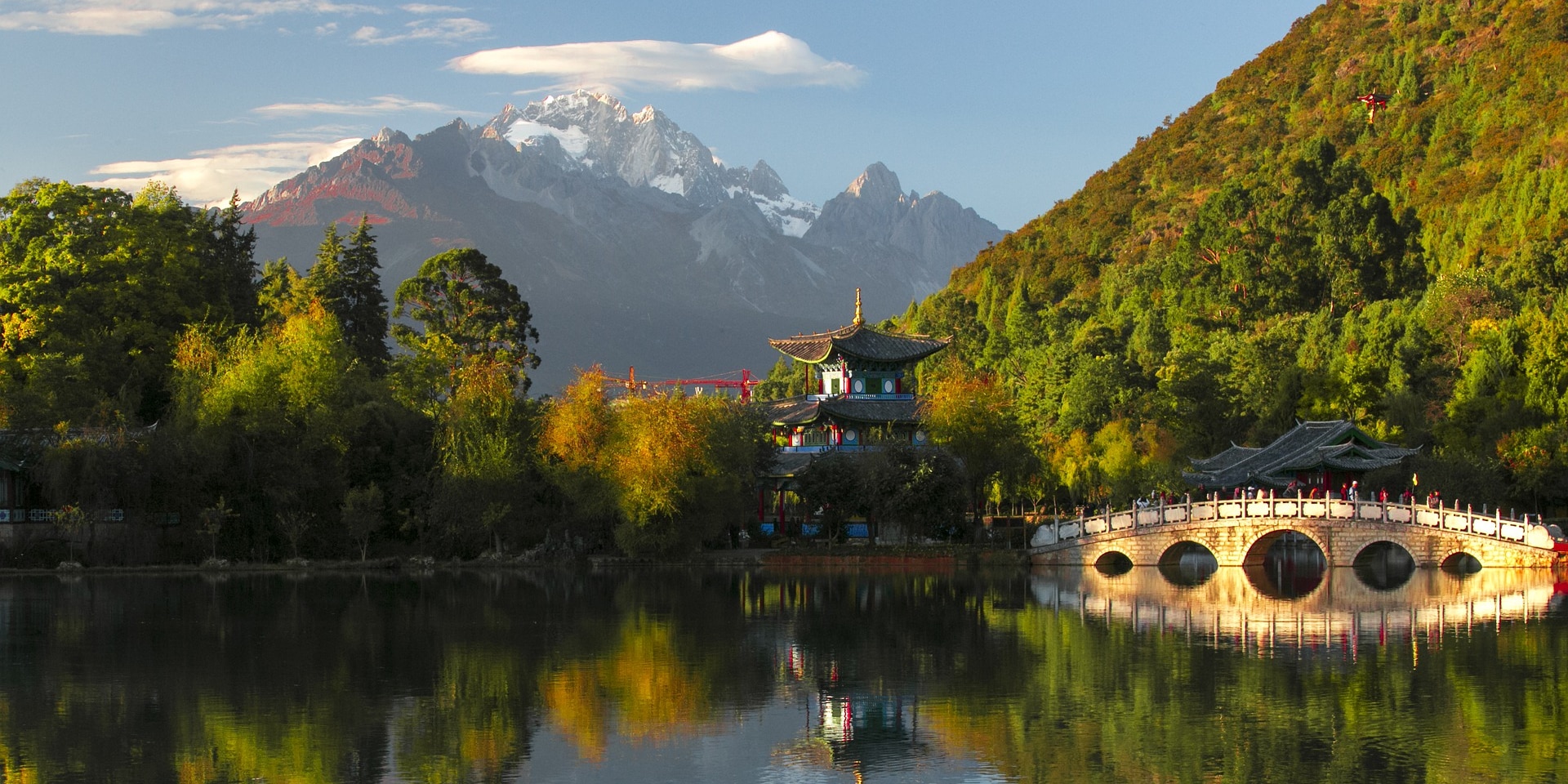 Jade Dragon Snow Mountain provides an impressive backdrop for the Black Dragon Pool Park in the north of Lijiang. The mountain is twinned with the Matterhorn. © liming0759 / Pixabay
The Matterhorn and Jade Dragon Snow Mountain
Rising up to 5,596 metres above sea level Yulong Xueshan, known in English as Jade Dragon Snow Mountain, is an eastern offshoot of the Himalayas. As iconic to China as the Matterhorn is to Switzerland, the two mountains and their neighbouring towns, Lijiang and Zermatt, are twinned. The idea of partnership between towns and regions in Switzerland and China illustrates the affinity between the two nations. In fact, the Matterhorn is not the only Swiss mountain to have a Chinese sibling. The Rigi and the Jungfrau are also twinned, with Emeishan (Mount Emei) and Huangshan (Mount Huang) respectively.


Facts and figures: Sister mountains and twin towns
12 canton/province partnerships
11 local authority partnerships
10 twinned towns 
3 sets of mountain twins
In the footsteps of Ella Maillart
Men and women in traditional Chinese dress, selling citrus fruit at a market in Beijing, camels carrying their human and commercial cargoes across the Gobi Desert, Chinese women with bound feet, looking curiously into a camera, and a goatskin raft swept downstream by the Yellow River. Geneva-born travel writer Ella Maillart evoked scenes like these to describe her trailblazing travels through the China of 1935. That China has changed, but remains a travel destination that draws many Swiss. By the same token, Switzerland is an unmissable stop on the itineraries of many Chinese visitors to Europe.
Facts and figures: Travel
399,293 airline passengers to China (2019)
1.8 million overnight stays by Chinese tourists in Switzerland (2019), ranking them 
4th among international visitors.
It all began with a telegram
Seventy years of diplomatic relations between Switzerland and China began with a telegram. On 17 January 1950, then-President of the Swiss Confederation, Max Petitpierre, wrote to Chinese President Mao Zedong expressing Switzerland's willingness to establish diplomatic relations. These have become increasingly broad and deep in the intervening years. Despite differing political, social and economic systems, relations continue to be characterised by openness and mutual respect. They have nonetheless become more complex in certain areas in recent years, with more frequent and more evident differences in values emerging. The forthcoming renewal of the China Strategy will provide a roadmap for Switzerland to continue finding constructive approaches to these differences from 2021 onwards.
Facts and figures: Diplomacy
1 of the focus countries for Swiss foreign policy
5 Swiss representations in China
30 expert dialogues
17 meetings at Federal Council level since 2016
50+ cooperation agreements
Joint venture between a Chinese firm and a foreign partner
The first joint venture in China involving a foreign partner began in 1980, with Swiss lift manufacturer Schindler. It marked the start of successful business ties between the two countries that have become increasingly close in recent years. In 2007, Switzerland was the first Western country to recognise China as a market economy, and in 2013, it was the first Continental European economy to conclude a free trade agreement with the Chinese. Close trade relations reflect the growing importance of China to the Swiss economy. China is Switzerland's largest trading partner in Asia, and its third-largest worldwide. Swiss companies continue to face challenges, however, such as the dominance of state-run enterprises, technology transfer and a lack of legal certainty in some areas. These persist despite the considerable progress that has been made. Switzerland is thus working to achieve economic relations with China that are as barrier-free as possible, founded on reciprocity, a level playing field and internationally agreed norms.
Facts and figures: Trade
1 free trade agreement
36 billion Swiss francs in bilateral trade volume 
40 years of the Swiss-Chinese Chamber of Commerce
1,000 Swiss companies in China
20,391,258 tonnes of freight traffic
Largest collection of contemporary Chinese art
At the end of the 1990s, businessman and then-Swiss Ambassador Uli Sigg amassed one of the largest collections of contemporary Chinese art in the world – helped by the general lack of demand for this style of art at the time. Mr Sigg has made over much of this collection to the M+ museum in Hong Kong, which is scheduled to open in 2021.
Facts and figures: Culture
10 years of support for Swiss art from Pro Helvetia, Shanghai
5 Swiss artists operate a studio in China (2020)
2.6% of total Pro Helvetia funding 
1,463 works from the Sigg Collection at the M+ museum
17,000 m2 of planned exhibition space at the M+ museum, designed by Basel architects Herzog & De Meuron
Scientific cooperation on climate and the environment
Switzerland and China are working together to combat the impact of urbanisation on human health and climate change in the world's third-largest country. The Sino-Swiss Clean Air China (CAC) programme, which is headed by the Swiss Agency for Development and Cooperation SDC, is intended to reduce greenhouse gas emissions in Chinese cities. As part of the project, a Chinese-Swiss research team is developing novel methods to conduct more accurate and timely pollution source analysis in order to design more effective pollution control policies (more information). This scientific venture is only one of the many examples of cooperation in the fields of science, research and education, as reflected in more than 250 university partnerships between Switzerland and China, for example. 
Facts and figures: Academia and science
250 ETH project partnerships since 2008
28% of global greenhouse emissions are produced by China 
By 2060: China's target to become carbon-neutral
2,493 Chinese students at Swiss universities in the 2019/2020 autumn semester
849 Swiss students in China
Chinese ski instructors on Swiss slopes
To make it easier for Chinese visitors to learn to ski in Switzerland, eight Chinese ski instructors were trained at Swiss ski schools and placed in major ski areas. The project has now evolved, with one of these ski instructors joining forces with a Swiss colleague to set up his own ski school in Chongli, one of the main venues for the 2022 Olympic Winter Games. Three of the instructors continue to teach in Switzerland, where we now also have a promising young Chinese skier in training for the Olympics.
Facts and figures: Sport
8 ski instructors trained in Switzerland
1 promising young Chinese skier 
7 Swiss medals in Beijing, 2008
12-month tour around China for the Swiss House, Beijing, ahead of the 2022 Olympics