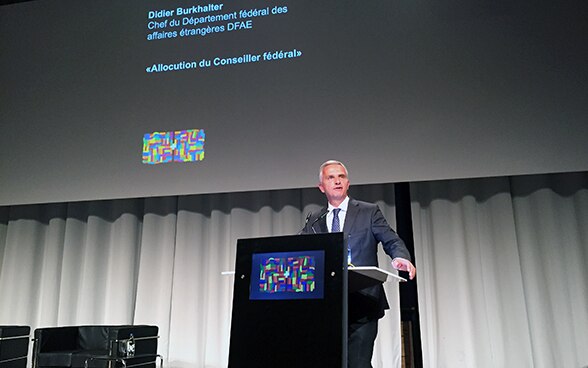 Speaking as head of the FDFA, Mr Burkhalter said that Switzerland's good offices, in particular its role as a mediator, formed the cornerstone of Swiss peace policy. He went on to say that mediation was an area in which Switzerland could make a lasting contribution to strengthening global peace and security, which is why the subject was particularly important to him.
Mediation is often a way out or a last ray of hope where daily life is plagued by war, conflict, helplessness, despair, need and pain - whether in the Middle East, South Sudan or Ukraine. In keeping with the spirit of the Federal Constitution, mediation is a means by which Switzerland can contribute to helping people live together peaceably. Switzerland has a long-standing tradition as a mediator as part of the country's good offices. Ambassador Heidi Grau, who heads the Human Security Division (HSD), stressed how important and necessary mediation was to help resolve conflicts effectively worldwide, stating that Switzerland was ideally placed for such efforts.
Adapting mediation to new situations
As the nature and context of conflicts are in flux, Switzerland must adapt its good offices to these changing conditions and professionalise its mediation practices. Today, there are extremist groups who operate across borders; conflicts revolve around borders or are sparked by competition over water resources. Consequently, possible approaches and solutions also have to change. Mr Burkhalter emphasised Switzerland's diverse involvement in mediation today but stated that the country's strengths must continue to be developed and put to better use. Switzerland should increasingly lead more of its own mediation proceedings and provide high-level Swiss mediators to the UN and OSCE, for example. For this, training in mediation should be developed accordingly. The FDFA wants to encourage young people into mediation with the help of specialist careers in the field and strengthen cooperation with partners, other states and organisations.
Every conflict and every mediation process is different
At the HSD annual conference, high-level diplomats and experts were given the floor to talk about their experiences in the field of mediation. The UN special envoy for Syria, Staffan de Mistura, explained the UN's viewpoint on mediation via video message. David Harland, Director of the Humanitarian Dialogue Centre, a mediation organisation based in Geneva, spoke about the subject from an NGO perspective. Alexander Hug, Deputy Chief Monitor of the OSCE Special Monitoring Mission to Ukraine, talked about his experiences in the field.  Ambassadors Christine Schraner Burgener and Günther Bächler also spoke about their mediation work in Thailand, Nepal and Georgia. Chief Fortune Charumbira, a Zimbabwean tribal leader and senator, illustrated how traditional methods of conflict arbitration can be combined with modern mediation methods.
Examples of Switzerland's mediation successes are the Évian Accords, marking the end of the Algerian civil war and ensuring the country's independence, the more recent ceasefire negotiations on the conflict in southern Sudan's Nuba Mountains (2002), mediation between Turkey and Armenia (2009), between Georgia and Russia (2010-2011) and Switzerland's engagement in Ukraine as part of the Organization for Security and Co-operation in Europe (OSCE).
---
Further information:
Good offices
Annual Conference 2015
Address by Federal Councillor Didier Burkhalter (fr/de)

---
Address for enquiries:
Information FDFA
Bundeshaus West
CH-3003 Bern
Tel.: +41 58 462 31 53
Fax: +41 58 464 90 47
E-Mail: info@eda.admin.ch
---
Publisher: