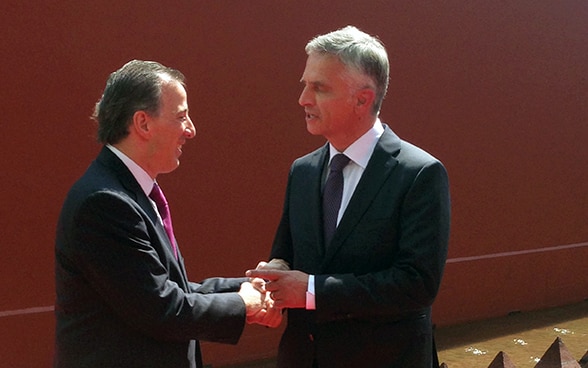 Mr. Minister,
Excellencies,
Ladies and Gentlemen,
Mexico is one of the world's great civilizational cores. It looks back at a tremendously rich and proud history, and it has a very bright future in front of itself. Your country plays a responsible and increasingly important and influential role in world affairs.  It is a member of the G-20 and has a dynamic emergent economy with a young and energetic population.
It is my great pleasure to be in Mexico today.
I thank you for your kind introduction, for your invitation to come to Mexico and for the opportunity to address this audience.
This year, we, Switzerland and Mexico, celebrate the seventieth anniversary of the establishment of our diplomatic relations. However, a General Consulate of Switzerland in Mexico was established already in 1849, only one year after the modern Swiss Confederation was founded. So Mexico was a very early priority in the foreign relations of the young Swiss federal state in the mid-19th century.
We have excellent bilateral relations. Our cooperation in many fields will only deepen and intensify, and the economic, cultural and social ties between our countries are as strong as ever.
The quality of the Swiss-Mexican relations is reflected in the Joint Statement we will sign later today with Minister Meade. And I am very much looking forward to our discussions, Minister.
First, we will take stock of the state of play of our bilateral relations. Second, we will outline the fields in which we could cooperate even more in the coming years. Even though Switzerland and Mexico work together already very well, there is always room for improvement. We can and will do more together in the future.
Today, we will give the starting signal to the various activities and events organized by our respective embassies in the context of the seventieth anniversary of our diplomatic relations. We will discuss our outstanding cooperation in multilateral forums where we are very much like-minded partners. Between our ministries we have fruitful and result-oriented annual bilateral political consultations as well as bilateral consultations on multilateral issues.
On the basis of a Memorandum of Understanding signed in 2013, we will now start a trilateral development cooperation program in which Mexico and Switzerland will jointly implement projects with third partner countries in Central America. We will also intensify our bilateral as well as multilateral cooperation on human rights issues.
Mexico is the second most important trading partner of Switzerland in Latin America. Switzerland is the eighth foreign direct investor in Mexico. Swiss companies employ more than 50,000 persons here.
The Free Trade Agreement between EFTA and Mexico is an important facilitating factor for our bilateral trade. We want to update and modernize this agreement soon.
I could go on, but I guess I have to retain a few topics for our discussion, dear colleague…! Our bilateral relations being so good, I thought a speech focusing on them would also sound a bit self-congratulatory.
Let me, therefore, talk about a more general matter, namely conflict and cooperation in a multipolar world and the role of Switzerland. This is, I agree, a rather difficult and heavy topic, but questions of international security and peace are urgent and relevant to all of us.
2014 has been in many regards a year of crisis and conflict. In Europe, we have witnessed a hybrid, localized war and the annexation of a country's territory by a neighboring state. I know that this is – for good historical reasons – of special concern to Mexico. We share this concern. We have watched the post-Cold-War security structure in Europe crumble in front of our eyes.
In the Middle East, the so-called Islamic State has conquered large parts of Syria and Iraq and has displayed a brutality unseen on this planet for many decades. Four huge humanitarian catastrophes – in Syria, in Iraq, in South Sudan and in the Central African Republic – have brought the international system to its very limits.
There were further crises such as the war in the Gaza Strip, the Ebola epidemic in Western Africa, the breakdown of law and order in Libya, the tensions in the South China Sea or the surge of child migration from Central America towards the US – to name an example which has directly touched Mexico.
Democracy and freedom have come under mounting pressure. Nationalism and authoritarianism are resurging. In 2014, democracy and freedom have suffered setbacks in 61 countries. Only 33 states have registered progress with regard to democracy and freedom last year.
So far, 2015 has seen terrorist attacks in Paris and Copenhagen. The slaughter of innocent men, women and children by Boko Haram in Nigeria and neighboring countries. The continued onslaught of the so-called Islamic State in the Middle East. We witness an all-out war in Yemen and persistent tensions in parts of Eastern Ukraine.
The flow of refugees from Africa to Europe has strongly increased this year, and we have seen horrible tragedies in the Mediterranean Sea.
One could argue that the proliferation of crisis and conflict in the last few years was accidental. But I think differently.
We are currently witnessing a profound, one could say tectonic shift in world affairs. After the Cold War, there was a very short unipolar moment with the US suddenly in an almost hegemonic position which it had not really looked for and which it was not really prepared for. This unipolar moment made some dream about an era of continuous stability and, yes, maybe a world of eternal peace. Some accordingly talked about the end of history.
We have, however, quickly learned that these hopes and dreams were superficial. They were illusions. The world continued to change. And actually as long as there are human beings, history will never have an end. We have entered a transitional period from that elusive unipolar moment to a more and more, albeit not yet completely multipolar world. This shift was accelerated by a conscious political choice of the Obama Administration to have a less unilateralist and a less assertive foreign policy and by budgetary constraints.
Meanwhile, other states have become more engaged and active internationally, shoring up their foreign policy and military capacities to project influence beyond their borders.
This can have positive or negative effects. Obviously, all accountable and responsible contributions to security and peace, especially in a multilateral framework, are welcome and important. However, aggressive projections of power only increase instability and chaos.
The proliferation of non-state actors since the end of the Cold War is a fact and a double-edged sword. NGOs, transnational diaspora communities, multinational corporations, and international media play a gradually more significant role on the global stage. They mostly are a force for the better.
At the same time, violent non-state actors such as terrorist or criminal organizations have multiplied, too. They are very difficult to contain. Terrorism in all its forms is an attack on our values and our security. The killing of innocents and the enormous suffering inflicted upon civilians by terrorist and criminal groups is unacceptable. Countering violent extremism is one of the main challenges of our generation. Therefore, Switzerland is very active in the Global Counter-Terrorism Forum (GCTF), and it supports actively the GCERF, the Global Community Engagement and Resilience Fund, based in Geneva.
This fund but also the efforts of our development cooperation aim at the root causes of terrorist mobilization. We want to give a long-term perspective, such as vocational education and training, to youth prone to join terrorist networks. We want to give them jobs and perspectives, not arms and anger.
Furthermore, Switzerland is a strong supporter of the landmark Arms Trade Treaty (ATT). We offer to host the treaty's secretariat in Geneva. We think it's an advantage for the Treaty. Because you find lots of synergies in Geneva with other organizations, institutions and experts active in disarmament and also because nearly every country in the world has a permanent Mission in Geneva. So the Member States can follow closely the implementation of the Treaty – without travel costs. I am very grateful to Mexico for organizing the ATT's first Conference of States Parties here in Mexico at the end of August of this year. This shows: both our countries are very active in this important topic.
As each and every period of transition, ours is also a time of instability and rebalancing. It is a time marked by risks, anxieties, sometimes of fear. International law and international humanitarian law are trampled upon, and too often the weapons speak instead of the diplomats. Too often the weapons' noise is louder than the people's voice.
This transitional period is also a time, however, full of opportunities to create a world of peace and of cooperation. To create a better world for the coming generations which are our hope and which we should always have in mind when we take decisions. To seek out what unites us, instead of what divides us. To build bridges, instead of burning them down. To have a dialogue, instead of hiding behind a wall of ideological rhetoric.
Indeed, this transitional period also offers windows of opportunities when cooperation becomes possible.
The long overdue rapprochement between the US and Cuba and a successful completion of the Colombian peace talks could make the Americas a model continent of peace and stability.
Other examples of successful or at least encouraging international cooperation are the negotiations of the post-2015 agenda and the climate change negotiations in which Mexico continues to play a leading role.
The fact that the UN Security Council was able to act decisively on Ebola as well as on the Central African Republic last year also is a positive sign. It is no option to give up on international law, on international humanitarian law and on multilateral cooperation when international laws are less respected and multilateral cooperation is more difficult.
The opposite is true! We must go the extra length to speak out for international law and international humanitarian law and for multilateral cooperation. I am very content that Mexico and Switzerland are in complete accordance on that.
Mexico is, of course, one of our oldest and most reliable partners when it comes to international humanitarian law. You have always stood firm when it comes to humanitarian principles. I also thank you for your support of the current joint initiative by the ICRC and by Switzerland to reinforce the respect of international humanitarian law.
Let me turn to the role of Switzerland in this period of change. Obviously, Switzerland is not an island, neither actually nor metaphorically. It is a highly internationally interconnected, economically open, export-dependent, innovation-driven and knowledge-based society of 8 million inhabitants. Switzerland is among the twenty biggest economies of the world.  It ranks first in the Global Innovation Index 2014  as well as in the Global Competitiveness Ranking 2014-2015.  It is, as one could read recently, the place where the happiest people on this plant live.
This country and the happiness of its people depend on stability and prosperity in its immediate neighborhood, but also globally.
If our neighbors and the world are not secure, we won't be secure. If our neighbors and the world do not prosper, we won't prosper. That is why Switzerland contributes – through its responsible, independent and solidary foreign policy – to international stability and security, to peace and freedom.
To do so, we have a vast toolbox at our disposal reaching from conflict prevention to mediation, from development cooperation and humanitarian aid to economic cooperation, trade and free trade agreements, from fighting the root causes of terrorism to disaster risk reduction.
When Switzerland acts, it does so in accordance with its values. The Swiss Federal Constitution stipulates our duty to "assist in the alleviation of need and poverty in the world and [to] promote respect for human rights and democracy, the peaceful coexistence of peoples as well as the conservation of natural resources".  These goals also match with the values which make us strong internally. Our political culture is based on dialogue and compromise, power sharing, consensual decision making, broad political participation of the people, federalism, and subsidiarity.
We do not believe that our political system can be exported. But we do believe that some of our institutions and some of our experiences and recipes for power sharing can be useful to further freedom, peace and stability in the world.
Today, many crises and conflicts are linked to the lack of power sharing. When power is concentrated in the hands of one ruler, of one majority, of one political party, or of one ethnic or language group, of one region of a country, conflicts are almost inevitable. Balancing influence and power and including all groups in a society into the political debate and into the decision-making process is delicate, complex and time-consuming. But it is a critically important endeavor to overcome fragmentation and to create stability and peace.
Two principles are crucial when it comes to cooperation or the containment or settlement of conflict: bridge-building and dialogue. I come from a country with many mountains, even though they are not as high as yours, and with many rivers. In this country – and someone has probably rightly said that mountains are conservative forces – we had to build bridges. Not because we like bridges as such, but without bridges we would have stayed isolated and backwards. The bridges opened Switzerland up – as well as tunnels actually: Next year, we will open the longest railway tunnel in the world to connect northern and southern Europe.
The bridges - and the tunnels - made it possible that our country became one of the most open and competitive economies of the world. They made Switzerland a welcoming society where almost 25 percent of the population is mostly well-integrated, hard-working foreigners. And one more thing we learned while we built bridges: You need both sides of the valley or of the river to cooperate. Both sides have to join in to build the bridge.
We built not only real bridges, but we also built them in the metaphorical sense. Switzerland used to be and still is a fragmented society. It is pluri-lingual, multicultural, multi-religious. Theoretically, such a society is prone to conflict. But Switzerland is a stable democracy. It was able to "keep the peace" in the last centuries. This is only possible because institutions were developed in a long and complicated historical process, especially federalism and power sharing in government, which protect and integrate minorities. Furthermore, we still do have a political culture which is based on dialogue and building bridges instead of majorities imposing their will.
Building bridges is a key feature of our foreign policy, too. On 1 January 2014, Switzerland took over the Chairmanship of the Organization for Security and Co-operation in Europe (OSCE). This organization comprises 57 participating states that span the globe, encompassing three continents and more than a billion people. From the very first day, we were confronted with the escalating conflict in Ukraine.
This conflict has struck the OSCE in its very heart. The OSCE takes decisions by consensus. When both sides of a conflict are a member of OSCE – and this is the case in the Ukraine conflict – consensus becomes very difficult. In this protracted situation we had to work hard to get an inclusive dialogue started to advance the search for a political solution. Dialogue in itself will not solve this conflict. But it is a starting point and a precondition for peace.
The OSCE also became operational in Ukraine very quickly. The OSCE Special Monitoring Mission to Ukraine was deployed already on 21 March 2014, and it is up until now the only organization on the ground which monitors the developments, gathers information, and reports in a fair and balanced way. It contributes to reducing tensions. It may help, in the long run, to foster peace, stability and security. The Mission engages with authorities at all levels, as well as civil society, ethnic and religious groups and local communities to facilitate dialogue on the ground.
We have also set up a so-called "Panel of Eminent Persons on European Security" as a Common Project. This is a forward-looking contribution on how to re-establish a functioning and sustainable security structure in Europe. It may contribute to preparing the basis for bridge-building, namely for a constructive security dialogue across the Euro-Atlantic and Eurasian regions. This dialogue would ideally integrate all actors on the continent and take their concerns seriously.
Some critics say that the OSCE is weak and that bridge-building and dialogue are nice, but that they lead to nowhere. I disagree.
Yes, the OSCE is a weak organization by design. But its weakness coming from the consensus principle is at the same time its potential strength. We know this very well from Swiss internal politics. Having to build a consensus needs time and much effort. But once you have a consensus, you can be sure that it is well thought through – and it is relatively likely to hold. The same is true for the OSCE: It is very difficult to get a consensus, but once you have reached it, there is a chance that it holds, that it is sustainable, and that it becomes an instrument for action. The unanimous agreement on creating the Special Monitoring Mission was not an easy one to obtain. But since the Mandate of the Mission has been renewed twice. First for 6 more month, and the last time even for one year.
With regard to dialogue, I want to underline that it is always better to talk than to shoot at each other.
The thing about dialogue is that you can never really measure its impact. But you can surely feel and see the impact of the absence of dialogue. A sad example is the Syrian crisis which produced and is still producing one of the biggest humanitarian crises in recent history.
Maybe thanks to the dialogue the OSCE was able to establish on several levels in the Ukraine crisis, there was – at least up until now – no further major escalation of the conflict?
As a member of the troika of the OSCE – consisting of the current chair Serbia, its next chair Germany and its 2014 chair Switzerland – we continue to push, in close concertation with our partners, for dialogue and for a cooperative and comprehensive approach to security in Europe and beyond. I strongly believe that the solutions we will find for Europe will have repercussions globally. In fact, Switzerland heads the OSCE-Asia group of contact in which we discuss the security challenges of the coming twenty years together with our Asian partners.
Bridge-building is also a key feature of the International Geneva. Since the founding of the Red Cross in 1863, the International Geneva has evolved into the second most important center of global governance. Geneva is a recognized center of expertise in peace, security and disarmament, in humanitarian action and humanitarian law, in human rights and migration as well as in other fields such as the environment and sustainable development.
Iran and the negotiations on the Iranian nuclear program are another example how Switzerland's foreign policy of bridge-building and dialogue functions.
Switzerland is the protection power of the US vis-à-vis Iran and represents US interests in Teheran. Since 35 years we are an important channel of communication – you might say dialogue – between the US and Iran. We have done a lot to bring the two main parties and the other involved countries to the negotiating table.
Switzerland has hosted several negotiation rounds in Geneva, Montreux and Lausanne. The intermediate deal signed in Lausanne a few weeks ago is an important step towards a peaceful and sustainable solution of a conflict which has been lingering on for many years.
Or let's take that last example: Cuba and the USA. Switzerland represents the US interests in La Havanna since 1961 and the Cuban interests in Washington since 1991. Until 1977, when both countries agreed to open their own interest sections in the respective capitals, Switzerland had played an important role as the protection power of the US in Cuba. It had to intervene on several occasions, also during the Cuban missile crisis, and thereby helped to prevent an escalation which could have led to a tragic disaster for each and everyone of us. While it is true that our role as a protection power has been a formal one since 1977, we have continued to helping keep a channel of communication or dialogue open.
In both cases, Iran and Cuba, we have played and continue to play our role. How significant or modest this role was and is the historians will decide.
What is essential to note is, however, that in both cases we have always encouraged both sides to talk to each other. And we started to build bridges.
The bridges will not be built in one day, of course. It takes time. Maybe we won't be able to finish them at the first try. But we will get up and try again. And at the end of the day, the two parties have to get onto the bridge and meet in the middle – and talk.
Mr. Minister,
Excellencies,
Ladies and Gentlemen,
Switzerland has an independent foreign policy based on these three dimensions: neutrality – solidarity – responsibility. Of course, we first and foremost defend Swiss interests and values. Most states will try to maximize the security, welfare, well-being and freedom of their citizens. But in a globalized, interconnected and increasingly multipolar world, interests cannot be defined solely according to narrow national concerns. The international community demands Switzerland to play its role on the world stage, and we can and do contribute much to the world. As I said before, if the world is not secure, Mexico and Switzerland won't be secure. If the world does not prosper, Switzerland and Mexico won't prosper.
However, all our contributions to world peace, to security, to the prevention or the settlement of conflicts through bridge-building and dialogue will be nothing else but a small drop of water on a hot stone, if we go it alone. The challenges in this transitional period are so huge that no single country can create a lasting and just world order on its own. We have to work together. And we do work together.
I thank Minister Meade for the invitation to come to Mexico. Our upcoming discussions are a great occasion to further develop and reinforce our cooperation. The Joint Statement we will sign today is a useful roadmap for that. Mexico and Switzerland share the commitment and the passion to make the world less conflictive and more cooperative – now and for the future generations.
I thank you.